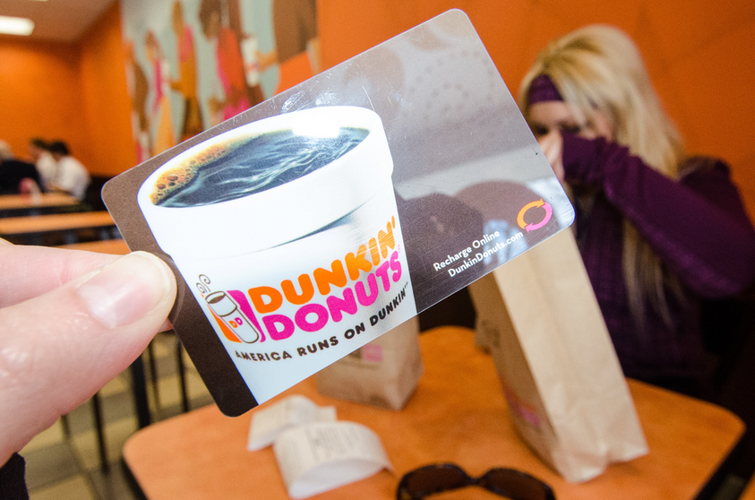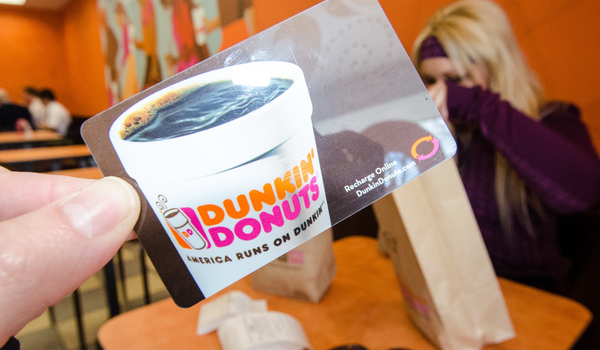 How To Add a Gift Card to the Dunkin' App [Explained]
How To Add a Gift Card to the Dunkin' App
—A Step-by-Step Guide
The Dunkin' Donuts app (also called the Dunkin' app or DD app) offers a fast and convenient way to pay for delivery and pickup orders. You can use multiple payment options on the app, such as Mastercard or Visa cards, prepaid cards, Google Pay, and Apple Pay—but how to add a gift card to the Dunkin' app? Don't worry as you can use this guide to learn the ins and outs of redeeming a Dunkin' Donut gift card—or DD card—on the company's app. We'll discuss:
How to use a Dunkin' Donuts gift card on the app

Whether you can merge various DD cards online

How to send a Dunkin' gift card

to someone
If you're a smartphone user, you can now earn free gift cards and side cash for basic tasks like streaming music and browsing the web on your device. All you have to do is install the Mode Earn App or use the Mode Earn Phone—you'll find a detailed how-to later in the article.
Do Dunkin' Donuts Gift Cards Need To Be Added to the App?
The Dunkin' Donuts gift card is a reloadable prepaid card that can be used to pay for snacks and beverages at all participating DD locations. You are free to redeem your gift card directly at a store, but if you add it to the DD app, you enjoy extra benefits like:
Accrual of loyalty points

—When you sign up for the Dunkin' Donuts app, you're automatically enrolled in

DD Perks

, which is the company's loyalty program. The program enables you to collect five points for every dollar you spend on the app using gift cards or other payment methods. You qualify for a free Dunkin' coffee every time you hit 200 points

Consolidation of multiple gift cards

—It's super easy to manage multiple DD gift cards if you add them to the app. You can effortlessly switch between gift cards while making a payment and even merge the balances of various gift cards onto one primary DD card,

similar to how you can on the Starbucks app

Protection against lost or stolen cards

—According to the company's gift card policy, Dunkin' Donuts will not be responsible for a lost or stolen gift card unless it has been registered online and is still

active

on the app. In case of unauthorized use of the card, the company will offer you a replacement DD card for the remaining balance
Besides these benefits, adding gift cards to the Dunkin' Donut app saves you time as you don't have to input the gift card number and code every time you use it.
Source: Mike Mozart
How To Add a Dunkin' Gift Card to the App
The Dunkin' app is one of the top food and drinks apps in the United States (along with similar quick-serve apps like McDonald's and Domino's). To add a gift card to the app, you must first sign up for a DD Perks account on the website or the Android or iOS app. Once you've done that, you can redeem your gift card online by any of the two methods described below.
Method One
Use this method when you want to load your gift card balance to the app before making an order. Here's how to add a gift card to the Dunkin' Donuts app:
Open your DD app and log in to your account

Select the

Menu

tab in the top left corner of the screen

Click on

Reload

Select

Manage Payments

or

Manage Cards

—the options may vary for Android and iOS platforms

Tap on

Add DD Card

Enter your gift card credentials—the card will appear as one of the available payment options
Once added to your account, you can check your gift card balance by navigating to Manage Cards and tapping on the pink refresh arrow.
Method Two
This method helps you add a gift card while ordering—here's how:
Choose items to order on your DD app

Click on

Scan/Pay

from the bottom menu

Tap on

Pay Another Way

at the top of the screen

Press

Add a Dunkin' Card

Type your

gift card number

and security code
Your gift card funds will be applied to your order, and the card will be added to your account (if it still has any balance).
Source: Zach Miles
Go From Smartphone User to a 
Smart 
Phone User With Mode Mobile
Mode Mobile offers one of the most profitable and time-efficient reward-based apps in the market—the Mode Earn App. The app has reinvented the phone-based earning game by allowing users to monetize everyday tasks like:
Listening to music

Playing games

Charging the phone

Locking and unlocking the screen

Reading the news

Checking the weather

Browsing the internet
The app allocates guaranteed earning points for these tasks, which can later be redeemed for rewards worth several hundreds of dollars. The Mode Earn App works on any Android device, but if you use it on Mode Mobile's flagship smartphone—the Mode Earn Phone, you'll double your earnings.
Source: Ivan Samkov
How To Combine Dunkin' Donuts Gift Cards
It may be hard to keep track of the balances on various DD gift cards added to the app. Many users prefer to consolidate these balances onto one DD card. You can merge gift cards on the app or the website—check out how the process works:
Platform

Steps

App 

Go to the

Manage Cards

option

Scroll down to

Merge Balance

Select cards for

Merge From

and

Merge To

Tap on

Done

—the drained gift card will automatically be removed from your account

Website

Log in to your DD Perks account

on any browser

Navigate to

Dunkin' Cards

Choose

Manage Dunkin' Card

Select

Transfer Balance

Tap on the desired

Transfer From

and

Transfer To

cards

Hit

Done
Know that the layout and menu titles of the app and website change often. We've presented the steps according to the latest navigation structure of these platforms. If you're using an older version of the app, remember that the Manage Cards option may be named My Cards.
How To Send a Dunkin Donuts Gift Card
to Someone
You can send a Dunkin' Donuts virtual gift card through the company's website. All you have to do is:
Go to the Dunkin' Donut homepage

Scroll down to find the

Send an E-Gift Card

option

Enter the email ID of the intended recipient (you can also send the gift card to yourself)
The Send a Gift option is also available in the DD app menu—you can send the gift card via email or text.
Source: Mike Mozart
Besides Dunkin' Donuts, you can also purchase the company's gift cards from:
Retail

locations like Walmart

and Target

E-commerce stores like Amazon
You can also score Dunkin' Donuts gift cards for free if you use reward-based apps. These apps require you to finish easy to difficult earning tasks, such as answering surveys, trying new apps, writing reviews, or shopping. Some reward-based apps will award you in-demand gift cards like Grubhub, DoorDash, Dunkin' Donuts, Chick-fil-A, Chipotle, Uber Eats, Roblox, and Apple, while others may offer cash or checks.
The Mode Earn App Brings the Best Rewards to the Table
Let the Mode Earn App run on your device, and you can start accumulating reward points for many of your regular phone-based tasks. You can also choose to earn more by engaging in additional activities like answering surveys, watching short ad videos, and installing new apps. The app offers quality compensation for each task—allowing you to earn up to $600 a year. You also get limited-time tasks based on your activity preferences—complete them to get a massive boost of points.
The Mode Earn App impresses users with hassle-free payouts and a wide variety of redemption options. You can choose to redeem your points for gift cards from your favorite brands, including:
You can also go for other types of redemption items:
Category

Redemption Items

Electronics

Mini-drones

Bluetooth speakers

Wireless headphones

Cash and payment cards

Game/game store cards

Growing investments

Others

Airtime

Donations

Discount coupons
The Mode Earn App has millions of regular earners—install the app to become part of the safe and thriving community. It's available for free download on Google Play and holds a stellar reputation on the platform with a 4.4-star rating after over 30 million installs.
Source: Google Play
The Mode Earn Phone Doubles Your Pay for the Same Tasks
Using the Mode Earn Phone is the best way to milk out rewards from the Mode Earn App. The Android-based smartphone doubles your points for all tasks, helping you earn twice as much as the app-only users.
The Mode Earn Phone gives you an earning potential of $1,200 annually. The phone already runs a preloaded Mode Earn App, so you won't have to worry about installing it.
Earn an easy $4 TODAY!💸
Take full control of your subscriptions. Earn a $4 Mode MasterCard when you sign up and link your bank account to Rocket Money!
Kashkick
Get cash back from Kashkick when you read emails, complete surveys, take quizzes, refer your friend, and subscribe to special promotions!
The device also has a time-saving earn-as-you-go widget—it's visible on the main screen and gives you instant access to earning modes tagged as Music Mode, Surf Mode, Games Mode, News Mode, Charge Mode, Lock Screen Mode, and Fitness Mode. The phone's octa-core processor ensures a smooth transition between tasks/apps.
The Mode Earn Phone helps you stay in total control of your earning potential—you get to set weekly earning goals and receive customized recommendations for tasks that'll help you reach them.
Source: Mode Mobile
Mode Earn Phone—Cost
Even without the earning benefits, the phone is a total steal. You can buy a full-featured Mode Earn Phone with a phone case, charger, and earphones for a budget price of $109. The best part is that the cost will be earned back in 2–3 months if you exploit the earning modes.
You can also use the phone on a monthly subscription of $9.99 (billed quarterly). Here's how:
Sign up for a free trial

of the phone—without any credit check

Provide your shipping address to receive the phone

Finalize the subscription after a month of free use
Keep the subscription active, and you'll get a new model of the Mode Earn Phone every 18 months.
All this while, you've been a consumer making other businesses rich. It's about time you get payback by monetizing your consumer habits—start doing that by buying or subscribing to the Mode Earn Phone.
Featured image source: m01229
Get Free Gift Cards In Minutes