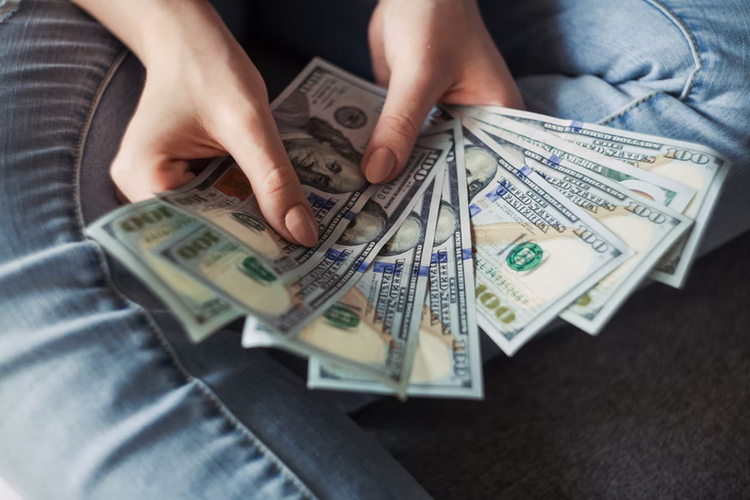 How To Convert Gift Card To Cash [Explained]
How To Convert a Gift Card to Cash
—A Full Breakdown
As practical and useful gift cards are, sometimes you prefer to have money in hand. Is it possible to get the full amount on your gift card back, though, or are you bound to lose some change in the process?
In this article, we'll tell you where and how to convert a gift card to cash. We'll go over the pros and cons of each option and explain how much money you can get in return. 
In addition, we'll let you know how to earn cash, free gift cards, and other amazing rewards with Mode Mobile's revolutionary system!
Can You
Get Cash From a Gift Card
?
No, you cannot get cash from a gift card, at least not in the traditional sense. Unlike prepaid cards, you can't use a standard retail card or a prepaid gift card (e.g., Visa or Mastercard) to withdraw cash at an ATM.
Depending on your state of residence, you may be able to return the card and get a cashback from the vendor. According to the National Conference of State Legislatures (NCSL), cardholders in certain states can get a refund for gift cards issued after a determined date, regardless of the merchant's policy.
Keep in mind that you can only get cashback for a certain amount on your gift card, and that amount varies from state to state. Check out the table below for more details:
Gift Card Value

States With Cashback Laws

No more than $10

No more than $5

Colorado

Maine

Massachusetts

Montana

New Jersey

Oregon

Washington

Texas

No more than $1
Where Can You Exchange Gift Cards for Money
?
If you're not eligible for a cashback, there are other ways to get money from a gift card. Note that you probably won't be able to recover the full amount, but you'll at least get some pocket change.
You can try turning your gift card into cash via:
Gift card exchange websites

Gift card exchange kiosks

Forums or e-commerce websites
Use a Gift Card Exchange Website
Gift card exchange websites allow shoppers to buy, sell, and swap unwanted cards at discounted prices. Note that the company takes a percentage of each sale, typically around 15% or less. You won't get all of your money back, but you could walk away with up to 90% of the total value, depending on the website.
Some of the most popular gift card exchange websites with the highest earning opportunity are listed in the table below:
| | |
| --- | --- |
| Website | Percentage |
| CardCash | Up to 92% of the original value |
| Gift Card Granny | Up to 92% of the original value |
| CardPool | Up to 90% of the card's value |
| ClipKard | Up to 90% of the card's value |
| Raise | Up to 85% of the original value |
If you've already used the card, it's still up for grabs, as long as it's valid and has some remaining balance.
Get Cash From a Gift Card
Exchange Kiosk
A gift card exchange kiosk is a self-service booth, similar to an ATM, where you can get rid of unwanted gift cards and receive cash in return. You can find them in most major retail chains, such as:
Not every merchant location has a gift card exchange kiosk, so make sure to check online for a store near you that participates in the program. For example, Coinstar is probably the best-known gift card exchange kiosk, but as of 2018, they discontinued the service.
Keep in mind that you can only get cash from valid gift cards with a minimum $20 balance. You also can't sell prepaid gift cards—like Visa or Mastercard that were issued by a bank—at a kiosk.
So, how do you get money from a gift card exchange kiosk? Here's a breakdown of the process:
Enter the gift card number (the 16-digit number written on the card)

Review the cashback sum and then accept or decline the offer

Print the voucher if you'd like to take the offer

Take the voucher to a cashier to get your money
Source: Peggy Marco
Resell the Card Online
You can try reselling the gift card without using a middleman, i.e., a card exchange service. There are several online communities and marketplaces where budget-conscious shoppers can trade gift cards. Post your offer on:
eBay

—You can sell gift cards via

eBay

as long as you adhere to the website's

official policy

. For example, you can only sell one card per listing, and it can't be worth more than $500. The website will also take a small percentage from the sale, much like gift card exchange websites
You can try selling the gift card at its original price, but you'll appeal to more people if you knock a dollar or two from the value. Remember to factor in shipping costs for physical gift cards when posting your ad.
Tips for
Getting Cash From Gift Cards
If you want to get money from a gift card with one of the methods, you should:
Check the gift card balance—You need to know your gift card's current balance before you resell it or convert it to cash. For example, most gift card exchange kiosks have a minimum amount required for the service. Most vendors provide customers with multiple options to access their funds, including:

Online 
By phone
In-store at the checkout

Consult the law—Each state imposes different gift card regulations. For example, Minnesota law prohibits the sale of gift cards with an expiration date or service fees. Look up your state's legislature regarding gift card trade on the NCSL website to make sure you can resell
Read the store policy—Some merchants strictly forbid reselling their gift cards on third-party marketplaces (e.g., Walmart)
Watch out for scams—Gift card exchange websites offer money-back guarantees and fraud protection to make sure each transaction is safe. If you decide to sell the card to an individual you met online, you could fall victim to scammers
Mode Earn App—A Safe and Easy Way To Earn Extra Cash
If you want to earn extra cash at a consistent rate, you can do it easily and safely with Mode Mobile's complementary products—the Mode Earn App and Mode Earn Phone. The company's reward-based system was designed for economic shoppers who want to save money and earn a supplemental income at the same time.
TODAY get a FREE stock and $15!💰
Get 1 FREE stock worth up to $225 + a $15 Mode MasterCard after you sign up for Robinhood and fund your account with at least $1!
Kashkick
Get cash back from Kashkick when you read emails, complete surveys, take quizzes, refer your friend, and subscribe to special promotions!
With the Mode Earn App alone, you can increase your annual earnings without working yourself to death. The platform allows you to combine various reward-based activities and choose the ones that best fit your daily routine. For each completed activity, you'll get an appropriate amount of points you can later convert into cash, free gift cards, or other valuable rewards.
With the help of Mode Mobile's revolutionary technology, you can make up to $600 per year by merely:
Locking your phone

Charging your device

Browsing the web

Reading the news

Checking the weather

Watching ads

Listening to music

Playing video games
In addition to the standard tasks, the Mode Earn App lets you earn extra points by taking part in timed deals and partner offers. Each additional earning opportunity is based on your previous activity on the platform. For example, if you like playing video games, the app will alert you of gaming-based timed deals.
Source: Mode Mobile 
What Are the Redemption Items?
The points you collect by completing your chosen reward-based tasks will be added to your account. You can later convert them into:
The rewards list continues to grow with each new partnership Mode Mobile forms, so make sure to check for updates regularly.
Get the Mode Earn App from Google Play for free and start earning money fast! The app has been downloaded by over 30 million users and has managed to maintain a stellar 4.4-star rating with more than 2.6 million reviews—we'll let the numbers speak for themselves.
Get a Mode Earn Phone and Double Your Income
Source: Mode Mobile
The Mode Earn Phone complements the Mode Earn App, allowing you to earn over $1,200 a year. The phone comes with a pre-installed Mode Earn App and an integrated earn-as-you-go widget that lets you engage in 16 different earning modes, such as:
Surf Mode

Music Mode

News Mode

Finance Mode

Watch Mode

Save Mode

Lock Screen Mode

Charge Mode
Thanks to the device's customized technology, you can double your earnings with only four hours of active use per day.
The Mode Earn Phone Brings the Future to You
The Mode Earn Phone can do more than help increase your profit—it's an innovative device with advanced features and optimal performance. The newest model—Mode Earn Phone MEP2—has remarkable specifications that ensure a seamless user experience:
Source: Mode Mobile
The phone is compatible with leading GSM carriers around the globe, including T-Mobile and AT&T. You'll get a 12-month warranty for the device and a separate 6-month warranty for the battery.
If you're ready to make it rain and enjoy the Mode Earn Phone's many perks, get the device by:
Choosing a free trial

—Subscribe to the device for $9.99 per month (billed quarterly) and get an upgraded model of the phone every 18 months

Making a one-time payment of $109
You'll be able to pay off your purchase fee and cover the data plan within months of using the device's earning modes. That's right—the Mode Earn Phone will pay you to use it!
Featured image source: Alexander Mills
Get Free Gift Cards In Minutes