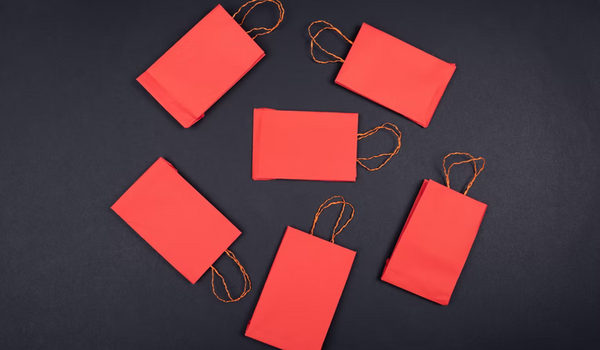 How To Get Your Hands on Cheap Gift Cards [Useful Tips]
Where Can You Get
Cheap Gift Cards
?
Gift cards can help reduce your monthly spending, especially if you manage to snag them at a lowered price. Luckily, there are many online sources where you can look for discount offers and similar deals. To assist your search, we've comprised a list of legitimate websites where you can get cheap gift cards for your thrifting needs.
You'll get the full scoop on how to navigate the wide range of offers and avoid falling victim to scams. Why stop at getting a discount, though? While you're hunting for deals, find out how to earn free gift cards by enjoying Mode Mobile's earn-as-you-go reward system!
Where To Get Discounted Gift Cards
You can get gift cards, certificates, and vouchers at discount prices from various gift card websites. Check out the table below for a detailed breakdown of the most popular platforms:
Website

Description

Giftcards.com

Discounts of up to 35%

Gift cards from more than 100 retailers

Shipping fee ($2) for physical gift cards sent via USPS

Delivery after five to nine business days

Cardpool

Discounts of up to 35%

Gift cards from various major retailers, such as Best Buy, Petco, and Home Depot

Physical cards and printable electronic certificates for online or in-store purchases

Free shipping via USPS for plastic gift card orders

Raise

Discounts of up to 35%

Gift cards from hundreds of reputable merchants

Physical cards and printable vouchers available

Free shipping for mail-ordered plastic cards

CardCash

Discounts of up to 35%

Gift cards from over 500 vendors

Physical and printable digital cards 

Free USPS shipping for mail orders

Delivery in one to five business days
Keep in mind that the gift card selection, discount offers, and other parameters change frequently. That means the card you're after might not be in stock at all times, so you need to act quickly. Some gift cards may also be available only as gift codes, so you can use them for online purchases specifically.
Alternative Ways To
Get Discounted Gift Cards
If you're looking for alternative ways to get gift cards at a lower price, you can also consider:
Promotional offers at wholesale stores

—Some retailers put up exclusive offers from time to time, enabling customers to purchase gift cards at reduced prices. Keep track of promotional events in major retail chains like

Walmart

and Target. Note that

Costco

also sells

gift cards for less

than the face value (up to 20%). The wholesale club offers a selection of gaming, airline, retail, and restaurant gift cards you can purchase in-store or via their website

Bulk orders and multi-packs

—Merchants sometimes offer discounts for bulk orders, e.g., for 20 or more gift cards. The bigger the order, the more likely they are to lower the price. Keep in mind that discounts typically don't apply to plastic cards since they're more expensive due to packaging and postage costs. Pro tip—don't order from the retailer directly. Instead, use gift card management software to get the best price! If you only need a few gift cards, many retail stores and drugstores sell multi-packs (two or more cards) for less than the total value

Resellers

—Search for fellow shoppers who are

reselling unwanted gift cards online

. Most people advertise on Facebook or Reddit, but you can also find offers on

eBay

and similar websites. You'll be able to get gift cards for less than the original value and maybe even negotiate a hefty discount. Make sure to follow the community guidelines of whichever platform you use to avoid shady deals
The Mode Earn App—An Easy Way to a Supplemental Income
The Mode Earn App is a reward-based app that works in your favor. You can download it for free from Google Play and start accumulating income right away. There are no mandatory subscriptions or hidden fees. All you need to do is install the app and proceed to collect points. 
With regular usage, you'll be able to add up to $600 a year to your piggy bank without breaking a sweat. There's a wide range of eligible items you can score in no time. Check out the table below for a detailed list of available prizes:
Award Type

List of Available Items

Gift cards

Prepaid cards

Game-cards and tokens

Free Fire diamonds

Eneba gift cards

Financial investments

Cryptocurrency

In-demand stocks

Gadgets

Mini-drones

Headphones

Bluetooth headsets

Other rewards

Airtime

Charity donations
The rewards list isn't final since Mode Mobile includes new items after every new partnership. Remember to browse the redeemable items inventory from time to time for a fresh catch.
Along with high earning rates and fast payouts, you'll have plenty of opportunities to boost your profit. The Mode Earn App provides timed deals, partner offers, and referral bonuses to users eager to make extra cash.
Install the app now and join a community of over 30 million budget-conscious shoppers who've managed to turn their screen time into money.
TODAY get a FREE stock and $15!💰
Get 1 FREE stock worth up to $225 + a $15 Mode MasterCard after you sign up for Robinhood and fund your account with at least $1!

 
Kashkick
Get cash back from Kashkick when you read emails, complete surveys, take quizzes, refer your friend, and subscribe to special promotions!
Beware of Discount Gift Card Scams
Source: FLY:D
Super cheap gift cards can seem too good to be true, and sometimes that's exactly the case. According to the Federal Trade Commission (FTC) 2021 report, gift cards are the number one payment method of choice for most internet scammers. Unless you get them from a retailer or an authorized issuer, consumer safety is not guaranteed.
Most gift card websites impose some security measures to stop fraudulent behavior. As long as you stick to the platform guidelines, you don't have to worry about getting scammed. Buying cheap gift cards from strangers on the internet poses a much greater risk. While most resellers are honestly trying to get rid of unwanted cards, some are only after your money. The most common scams include selling fake gift card codes or cards that have expired. Luckily, there are steps you can take to save yourself from getting swindled.
How To Avoid a Scam When
Buying Cheap Gift Cards
To ensure you don't fall for any monkey business when trying to get discount gift cards, follow this advice:
Use tried and true gift card websites, such as CardCash and Raise, instead of social media

Inspect the gift card before you make any payments. If you're buying a plastic card, look for the white sticker that contains the ID number, PIN, and

activation code

, and make sure everything's in check. Note that not all gift cards come with a PIN

Look for an expiration date on the gift card. Most standard retail cards don't expire, but some can become invalid after five years, depending on state laws

Try to

redeem the gift card

online (on the retailer's website) as soon as possible, using the ID number and PIN if necessary

Check the retailer's website for any gift card promotions if you receive an offer via social media. Some scammers will pose as brand representatives promoting special discounts on gift cards and vouchers
If you encounter an internet scammer, report them to the Federal Trade Commission by filling out a form on their website. You can submit a statement even if you didn't lose any money in the process. Your report will help raise awareness and prevent future attempts at fraud. You can also reach out to the state attorney general and report the offense.
In case you already paid the scammer, you have grounds to alert law enforcement as well. Go to your local precinct and file a police report.
Why Chase Discounts When You Can Get Free Gift Cards?
Saving a few dollars on a purchase feels good, but nothing beats scoring a free gift card. With Mode Mobile's reward-based system, you can earn free gift cards and other amazing prizes by using your phone.
The company is entirely customer-oriented, ensuring each user gets a one-of-a-kind opportunity to boost their income with a steady cash flow. You'll be able to make money on the side by completing a series of fun and easy phone-based activities, such as:
Streaming your favorite songs

Browsing the web

Playing mobile games

Watching short videos

Reading the news

Checking the weather

Charging your phone

Locking and unlocking the device
As you complete each task, you gain an appropriate amount of points which can later be redeemed for various prizes. Mode Mobile allows you to combine activities that best suit your daily routine. You won't be limited to one or two earning opportunities or asked to meet impossible payment thresholds. Using the company's two revolutionary products—the Mode Earn App and the Mode Earn Phone—you'll be able to accumulate hundreds of dollars in supplemental income without compromising your free time.
Source: Mode Mobile
Double Your Annual Earnings With the Mode Earn Phone 
If you want to double your annual earnings, get the Mode Earn Phone—a next-gen device with outstanding features. The Android-powered smartphone comes with an earn-as-you-go software widget that complements the pre-installed Mode Earn App, enabling you to make money at a faster rate. You'll be able to complete various reward-based tasks by combining 16 different earning modes, including:
Save Mode

Cash Mode

Music Mode

Task Mode

Finance Mode

Surf Mode

News Mode

Crypto Mode

Games Mode

Fitness Mode

Share Mode

Weather Mode

Charge Mode

Watch Mode

Lock Screen Mode

Data Mode
Get the Mode Earn Phone and make more than $1,200 in annual income by going over the same phone-based tasks. The cutting-edge device is compatible with all top carriers and equipped with amazing specs, including an Octa-Core processor and 4000 mAh battery that comes with a separate warranty.
Source: Mode Mobile
You can either purchase or subscribe to a Mode Earn Phone by:
Making a one-time payment of $109

Starting a free trial, followed by a monthly subscription of $9.99 (billed quarterly)
If you choose to continue the subscription, you'll get a new device with all the latest upgrades every 18 months.
You'll be able to earn back your initial investment in a matter of months with as few as four hours of active use. Get your Mode Earn Phone—the only device that pays you to use it—today!
Featured image source: Tamanna Rummue
Get Free Gift Cards In Minutes