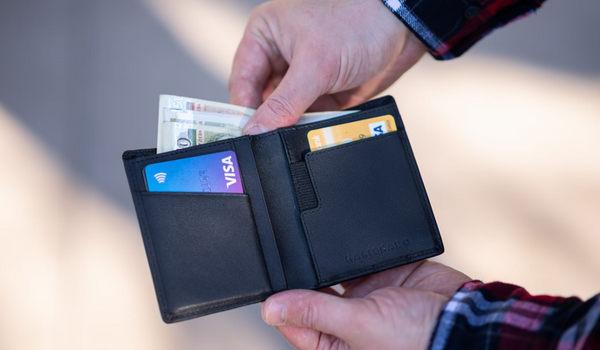 Where Can I Exchange Gift Cards for Cash? [All Locations]
Where Can I Exchange Gift Cards for Cash
—Answered
People hesitate to give cash as presents because it's considered tacky, but that's precisely what you need sometimes! Anyone who has collected a fortune of unwanted gift cards over the holidays must have asked the same question at some point—where can I exchange gift cards for cash? Don't worry—we'll tell you everything you need to know.
Keep in mind, though, that getting cash for your gift card is only possible under two scenarios:
Reselling the card
Unfortunately, returning your gift card is usually a no-go because most retailers have a strict no-refund policy on gift card sales. In this guide, we'll present various options to swap your gift cards for cash online and at physical locations.
We will also showcase Mode Mobile's products that help you earn side cash, free gift cards, and prepaid cards by using your smartphone for everyday activities.
Where Can I Exchange Gift Cards for Money
?
There are a handful of locations where you can sell your gift cards, but before we get to them, you must understand that most gift cards' resale value may vary. Even an ugly Christmas sweater can be resold more easily than, say, a Fandango gift card with limited demand.
If you're looking to exchange your gift card for cash, accept the possibility of not getting its full face value. Gift cards from popular stores can be resold for up to 95% of their value, while those from relatively obscure retailers may get zero buyers. From what users have shared, you'll have better luck selling your gift card online than at physical locations.
Currently, you can get cash from your gift card by:
Using a gift card kiosk

Selling your gift card in person

Using a gift card sale and exchange website or app
Where Can I Find a Gift Card Exchange Kiosk
?
Gift card exchange kiosks are ATM-like machines that spit out cash in exchange for gift cards. They are usually placed around popular retail locations like grocery stores, departmental stores, and drugstores.
Here's how to use a gift card kiosk:
Find the gift card slot on the machine (the position varies for different kiosks)

Insert your unwanted gift card

Wait for the machine to scan and process your card

Review the offer that flashes on the screen—you'll have to choose between:

Collecting a discounted value of the gift card in cash

Taking a gift card (of the same or a lower value) from another retailer

Accept the offer and collect your cash or gift card
If you decline the offer, the machine will return your gift card. Many gift card kiosks that are located within stores issue vouchers instead of cash or gift cards. You have to provide the voucher at the store's cash counter to collect your compensation.
Most gift card kiosks only accept gift cards from well-established brands, such as Nike, Best Buy, Macy's, and Apple. If your gift card is from a retailer with low market credibility, you may not get an offer at all.
Source: Nick Pampoukidis
Where Is the Nearest Gift Card Exchange Kiosk
?
You can find a gift card kiosk near you by making a simple search on Google Maps—by typing in, for example, "gift card kiosk near me," "get cash for gift cards locations," or "get cash for gift cards near me." We found that, of late, many users have struggled to locate working gift card kiosks in their vicinity. That's because many of these machines were shut down over the pandemic due to inactivity and high floor-renting costs.
If any Coinstar gift card kiosk pops up in your search results, ignore it. The company used to operate thousands of gift card exchange kiosks in the U.S., but they recently revamped the core function of these machines. As of 2022, their kiosks no longer accept gift cards but do quite the opposite—they let you insert coins to buy gift cards for an 11.9% service fee!
Where Can I Exchange Gift Cards for Cash in Person
?
If you want to sell your gift card in person, try offering it to someone who could use it—a friend, family, or an acquaintance. In case that's not an option, you can:
Sell the card to a local retailer

—The managers at many local stores, like Walmart and Target, may agree to buy back gift cards at a much lower price. It's rather risky, though, as most stores don't have tight policies about such transactions

Post a classified ad to find buyers

—You can list your gift card for sale on platforms like

Craigslist

and

Facebook Marketplace

. Many users also post sale requests on

Reddit's gift card exchange sub

. If you find a buyer, ask them to finalize the sale in person. It's prudent to refuse payments in checks or money transfers to avoid getting scammed
Earn Side Cash the Easy Way With the Mode Earn App
The Mode Earn App is a reward-based app that works on all Android devices. It's available for free on Google Play and has no usage or subscription fee. Install the app on any device and start collecting reward points for all eligible tasks without fuss.
The Mode Earn App is designed to boost the income of budget-conscious customers. Using it regularly enables you to gather up to $600 a year—check out examples of our reward options in the table below:
Mode Earn App Rewards

Options

Gift cards

Game-related cards and items

Cash and payment cards

Investments

Physical goods

Mini-drones

Bluetooth headsets

Headphones

Others

Airtime

Shopping discounts

Charity donations
Mode Mobile partners up with new businesses regularly to offer you more earning alternatives and reward options. 
The Mode Earn App has earned a rating of 4.4 out of 5 stars on Google Play from millions of satisfied users around the world. Join the party and turn your daily phone-based tasks into real money. 
Source: Google Play
Why Consider Selling Gift Cards Online
Selling gift cards locally can be tiring as there's no guarantee you'll find a buyer or get a fair price. Luckily, that's not the case with online gift card marketplaces. Dozens of websites offer you assistance with trading in your gift card for cash or other gift cards. Before using a website, do your research to make sure the platform:
Has a large and steady base of users (and doesn't have too many bad reviews from customers)

Offers hassle-free cashout

Charges a reasonable commission (many websites trick users into selling their gift cards only to deduct a large commission fee later)
Source: John Schnobrich
What Is the
Best Site To Redeem Gift Cards
for Cash?
You can find some popular gift card sale and exchange websites listed in the table below:
| | |
| --- | --- |
| Website | Description |
| Raise | Raise is one of the most established platforms for buying and selling secondhand gift cards. The website charges a 15% commission, and you can expect a net payout of 60%–80% for your gift card |
| Gameflip | Gameflip is ideal for selling game- and game-related gift cards like Nintendo, Xbox, Roblox, Spotify, Google Play, GameStop, and Steam, usually redeemable online. The website also accepts other gift cards like those from DoorDash and Walmart. Gameflip suggests listing gift cards at a 2%–15% discount to find quick buyers—expect an 8% commission and a 2% digital fee |
| ClipKard | ClipKard has a tool where you enter your gift card deets and get a quote for it. If you accept the quote, you'll get a prepaid shipping label to send your gift card (or you can email the codes of your digital gift card) |
| Gift Card Outlets | The website enables you to send a quote for your gift card to its team. They will review your quote and help you proceed with the sale |
| GiftCash | This website features a gift card quote tool similar to ClipKard, but it only accepts gift cards from select few retailers |
A word of advice—if you have a Mastercard, Visa, or American Express gift card, you can cash it out directly through PayPal and then transfer the money to your bank account.
Earn an easy $4 TODAY!💸
Take full control of your subscriptions. Earn a $4 Mode MasterCard when you sign up and link your bank account to Rocket Money!

 
TODAY get a FREE stock and $15!💰
Get 1 FREE stock worth up to $225 + a $15 Mode MasterCard after you sign up for Robinhood and fund your account with at least $1!
Need Quick Cash? Start Monetizing Your Phone Time
Everyone can use a little income boost from time to time—and you don't need to have a side gig for that. Mode Mobile offers you a one-of-a-kind opportunity to make money by completing regular phone tasks, such as:
Streaming your favorite songs

Browsing the internet

Playing games

Charging your phone

Watching short videos

Reading the news

Locking and unlocking your phone
By completing these and many other activities, you accumulate reward points that can be redeemed for cash and various in-kind prizes. There are no lucky draws here—rewards with Mode Mobile are guaranteed.
To earn steady supplemental income throughout the year, all you need to do is use Mode Mobile's products—the Mode Earn App or the Mode Earn Phone.
Source: Tim Mossholder
The Mode Earn Phone Is Your Ticket to $1,200+ Worth of Rewards
The Mode Earn Phone is a next-gen, full-featured device that doubles your earnings for the same activities. The Android-based smartphone has an earn-as-you-go widget that works side-by-side with a preloaded Mode Earn App, helping you earn at a 2x-faster rate.
The Mode Earn Phone offers 16 different earning modes, including:
Music Mode

Task Mode

Surf Mode

News Mode

Games Mode

Fitness Mode

Weather Mode

Lock Screen Mode

Data Mode
Get the hang of these earning modes, and you can earn well beyond $1,200 a year.
The Mode Earn Phone is compatible with all top carriers and loaded with amazing specs, including a triple-camera and multitasking-enabled processor. You'll get free headphones, a phone case, and a charger with your device.
Source: Mode Mobile
You have the option to purchase or subscribe to a Mode Earn Phone. You can:
Buy the device for a one-time price of $109

Subscribe to the phone for a monthly fee of $9.99 (billed quarterly)
All our subscribers get a free trial month. Continuing subscribers get a new model of the Mode Earn Phone every 18 months.
Regardless of how you get it, your Mode Earn Phone will pay its dues. Even with moderate use of the device, you will earn back your investment within a couple of months.
Buy or subscribe to the Mode Earn Phone today!
Featured image source: Emil Kalibradov
Get Free Gift Cards In Minutes