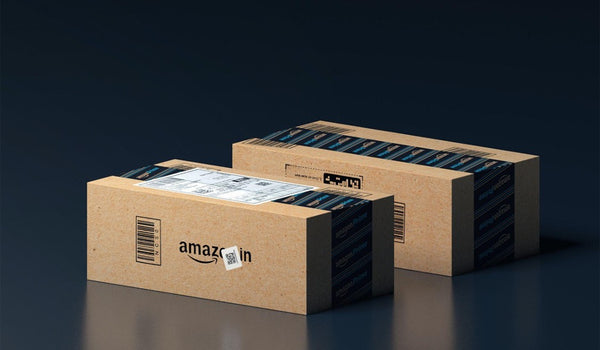 Amazon Gift Card—Everything You Need To Know
Amazon Gift Card—Where To Get It and How To Use It
In 1999, a financial magazine article called Jeff Bezos "just another middleman" who would flop in no time. Some 20 years later, Amazon is the largest online retailer in the world. You've probably already enjoyed the convenience this company brings to shopping, but your customer experience can get even better with the gift cards the company offers.
If it's your first time having one and you know nothing about using it, this article will help you learn everything you need to know. We'll show you:
TODAY get a FREE stock and $15!💰
Get 1 FREE stock worth up to $225 + a $15 Mode MasterCard after you sign up for Robinhood and fund your account with at least $1!
What Types of
Amazon Gift Cards
Are There?
Amazon gift cards work similarly to all other company-issued gift cards. They can be used for purchasing Amazon products and services, or you can send them to someone else via mail or email as a present. The following table shows the five types of gift cards this company offers:
| | |
| --- | --- |
| Type | How It Works |
| Physical Amazon gift card | A physical card with customized packaging that can be shipped to a specified address |
| Amazon e-gift card | A digital gift card sent to the recipient within 5 minutes. It can arrive via email, text, or a messaging app |
| Print at Home Amazon gift card | A PDF gift card you can print and fold into a greeting card. You can personalize it by uploading a custom photo |
| Amazon Specialty gift card | A gift card you can redeem at other companies or on specific platforms, such as Steam, Uber, Apple, Whole Foods, Starbucks, and similar |
| Amazon Reload | A card you can use to top up any type of Amazon gift card you already have |
With Amazon gift cards, you won't have to worry about expiration dates or shipping fees (for physical cards) since there aren't any. The minimum value ranges from $1 to $25, depending on the type, but all available gift cards have the same upper limit, which caps at $2,500.
How To Redeem
Amazon Gift Cards
Most online stores and retailers allow you to use gift cards online during checkout, but Amazon is a bit different. Their gift cards don't need to be activated before redemption, but you need to transfer the funds from them to your Amazon account before choosing the products you want to buy. 
Once you redeem the 14-digit gift card code found on your card, the funds will go to your account's gift card balance, and you will be able to use them during your next purchase.
When it comes to Amazon Specialty gift cards, the way you use them depends on the company/platform the gift card is for. Each company has a different set of instructions for the redemption process, so it's not the same if you want to redeem a gift card for a store like Sephora or Lowe's or use a gift code for a video game, such as Roblox or Fortnite.
As for the other types, there are two ways to redeem Amazon gift cards—via:
Mobile phone

Desktop
Source: Christian Wiediger
How To Redeem Your Amazon Gift Card via Mobile Phone
If you're using your Amazon mobile app to redeem the gift card, you need to:
Open the app or visit the

Amazon website

Log in to your account and tap

Hello

to navigate through the menu

Select the

Payments

option and choose

Your Payments

Tap

Amazon Gift Card

Click on

Redeem a Gift Card

Enter your gift card number and PIN code

Tap

Apply to Your Balance
How To Redeem Your Gift Card via Desktop
To redeem a gift card using your PC or Mac, you must:
Go to the Amazon website and sign in

Choose the

Account

option right under

Hello

and select

Account

from the drop-down menu

 

Select the

Your Payments

option (you can skip the first three steps by using the

Redeem a Gift Card

link)

Choose

Amazon Gift Card

Click on

Redeem a Gift Card

and enter your gift card information

Press

Apply to Your Balance
What Are Some Common Issues With Gift Cards?
When you complete the Amazon gift card redemption process, the funds should be available immediately. If this doesn't happen, you may have encountered one of the following two issues:
The gift card has already been redeemed 

The reward was applied to the wrong account
In the first instance, Amazon will report an error about the card having already been used. It happens if you try redeeming a gift card that you have already used during one of your previous purchases. 
The latter problem occurs because gift cards are non-transferable and can't be used on multiple Amazon profiles. Make sure you're logged in to the right account before you attempt to redeem the card.
If you are sure that you are on the right account and using the card for the first time, it means that there may be some problems with the server. All you need to do is wait a bit until your funds show up on your profile and then proceed with the purchase.
What Can You Spend Your Amazon Gift Card Funds On?
Aside from buying products via Amazon's online store, there are various other places where you can use Amazon gift cards. Some of these options include:
Amazon Prime Video

Amazon Basics

Twitch
You can also convert the funds to cash via PayPal or turn them into Bitcoin.
How To Get Free
Gift Cards for Amazon
Source: Mode Mobile
Gift cards are amazing because they allow you to pay for something without using your money, which is why buying them yourself doesn't bring any benefits. You still have to set aside the same amount of cash you would spend on the products you want to buy anyway. Certain free gift card apps can help, but they usually have specific criteria users need to meet, and it may take too long to collect enough points and get a reward.
Thanks to Mode Mobile's Mode Earn App—a simple and fun platform that helps you earn supplemental income with zero effort—you can collect reward points and convert them into a free Amazon gift card!  All you need to do is use your mobile device and perform super-simple everyday activities, such as:
Checking the weather

Installing partner apps

Surfing the internet

Locking your phone

Watching video ads

Reading news and articles

Listening to music

Taking timed deals

Charging your phone
You can start earning and earning rewards by installing the Mode Earn App on your device or obtaining the Mode Earn Phone.
Make Supplemental Income Using the Mode Earn App
The Mode Earn App helps you earn rewards by running in the background and following the activities on your smartphone. Every time you do something you can get points for, the app takes note of it and adds rewards to your account automatically.
With the Mode Earn App, you can complete dozens of activities and receive up to $600 in a year. You can also convert reward points into physical goods, cash, gift cards, stocks, or cryptocurrency. Note that the app also offers boosters—timed deals that allow you to earn extra rewards by completing specific activities during the day.
The app has over 30 million users worldwide who earn reward points all the time—with more than 2.6 million reviews, it has a 4.4-star rating out of possible 5 stars. You can download it from the Google Play Store for free!
The Mode Earn Phone—An Android Device That Pays for Itself
Mode Mobile has also come up with a device that's dedicated to making you money. The Mode Earn Phone comes with the pre-installed Mode Earn App that offers 50% more rewards than the app you can install on other devices. Thanks to this, you can earn over $1,200 each year with only 4 hours of daily use, which is below the average!
As it works on an "earn as you go" principle, the more you use the phone, the more income you'll make. To collect reward points, you can use one of the 16 different modes:
Surf

Music

News

Charge

Locked

Task

Fitness

Crypto

Share

Cash

Data

Finance

Save

Weather

Watch

Game
Reward points gained from phone use will cover your data plan and phone purchase costs in a few months, making your efforts more than worthwhile.
If you want to use a Mode Earn Phone, you can buy or subscribe to it by using one of the following options:
Free trial

—The only initial cost is the shipping fee. After that, you'll have a subscription fee of $9.99 every month, which will be billed quarterly

One-Time Payment of $109

—If you want to make the best deal, you can make the one-time payment
Source: Mode Mobile
Referral Bonus
Another way to make cash with Mode Mobile is referring the Mode Earn Phone to your friend. If you use our Refer a Friend program, you can earn $5,000+ during a single year. This option will let you make money in the following ways:
Refer a Friend

—$25 for each friend that registers a purchase

Get a Bonus

—$200 for 25 referrals

Earn More

—$7 for every time your referral refers their friend
Mode Phone Specs
Once you subscribe to the Mode Phone, you will receive a new, updated device every 12 months. The phone comes with impressive specs, which will allow you to replace your primary smartphone and use only this one. This will significantly increase your use time and bring you as many rewards as possible.
The current Mode Phone 2022 comes with the following specs:
Octa-Core ARM Cortex

4,000-mAh battery with overvoltage protection

1.6Ghz chip

Android 11

6.52'' HD screen

Fingerprint and Face ID unlock

Triple-lens camera—13MP + 2MP + 2MP

128GB storage

5MP selfie camera

Dual SIM slots

Loudspeaker

IEEE 802.11 b/g/n WIFI Hotspot and BT4.2 Bluetooth connectivity

3.5mm headphone jack

Various sensors including gravity and light sensor, proximity, gyroscope, and compass
The phone works with various GSM carriers all over the world. Once you get the device, you'll have a 12-month warranty for it, with an additional 6-month warranty for the battery!
More Guides That Will Help You Get Your Cash Back
Looking for more ways to get cashback? Check out the guides we have on gift cards from Amazon, Fortnite, Roblox, and others:
Featured image source:
ANIRUDH
Get Free Gift Cards In Minutes