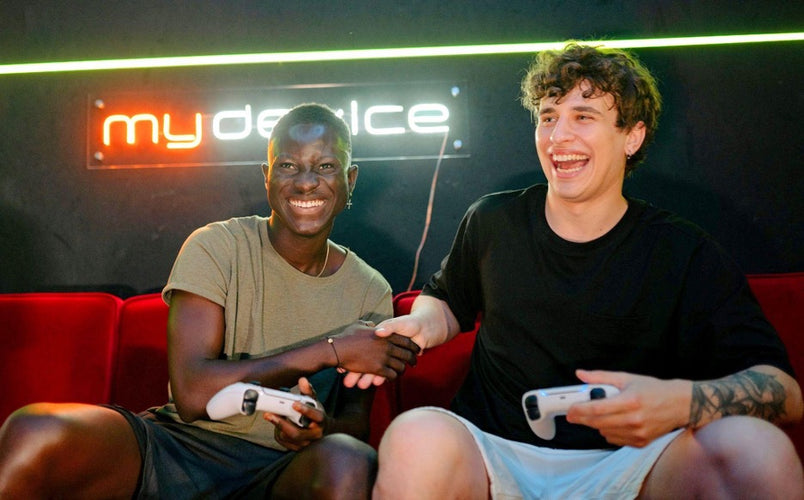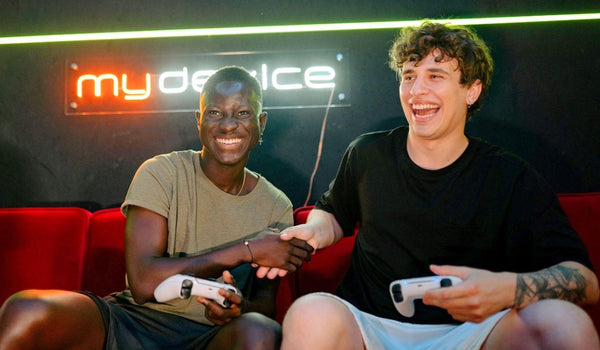 Earning Free Xbox Gift Cards Made Easy [Pro Hacks]
Scoring
Free Xbox Gift Cards
the Legitimate Way—All Methods Compiled
You're fully immersed in your new favorite game on Xbox when the screen flashes—pay $XY to unlock the next level. A real bummer, right? Well, the situation can be easily resolved when you have a steady supply of free Xbox gift cards—but where do you find them?
Xbox gift cards can be applied to your Microsoft account and enable you to access several games and acquire special passes and subscription memberships. Go on the internet, and you'll find a plethora of websites promising these cards for free, but only a handful of them have authentic offers.
In this guide, we will explain:
How to get Xbox gift cards for free

Which method is the most efficient
We will also introduce Mode Mobile's products that enable you to earn free gift cards, game cards, and console cards by monetizing your regular phone-based activities.
Does Xbox Give Free Gift Cards
?
Every year, many people claim to have received free gift cards from Xbox out of the blue. These gift cards are digitally delivered and usually hold a value of $5, but there's a catch—they are distributed to random users during Xbox's annual Spring Sale event. It's essentially a game of chance, and if you want a more reliable way to win active Xbox gift cards for free, you should explore other options.
How To Recognize a Viable GPT and Reward-Based Platform To

 
Earn Free Xbox Gift Cards
GPT websites and reward-based apps offer guaranteed rewards, but finding a lucrative platform is like hunting for Easter Eggs in a video game. While deciding on a platform, consider the following two factors:
Availability of rewards

—Many of the platforms are not upfront about the available rewards, which can leave you feeling deceived. If you want Xbox gift cards, do your research and choose platforms that offer them specifically. You can also go for the ones that give you:

Hard cash

—you can use it to

 

buy a gift card

 

of your choice
Gift cards of e-commerce superstores like

 

Walmart

 

and Amazon—these platforms

 

sell gift cards

 

from various retailers

Visa

,

 

Mastercard

, or

 

American Express gift cards

—they are accepted by multiple retailers

Time-investment and rewards ratio

—Many GPT and reward-based platforms reward you only after you've spent hours completing demanding tasks like sending emails and taking surveys, and that shouldn't be the case
Source: thiago japyassu
If you're looking for a reliable, time-efficient, and profitable way to earn valuable rewards, turn to Mode Mobile. The company enables you to earn gift cards, game cards, prepaid cards, console cards, and cash by doing everyday activities on your phone, such as:
Playing games

Shopping

Streaming songs

Charging your phone

Tracking fitness goals

Checking the weather
There are two complementary products you can use:
Mode Earn App—a

 

reward-based app

 

that works on any Android device and can help you earn up to $600 a year
Mode Earn Phone

—an Android-based smartphone that doubles your earnings on the app
Leveling Up Your Income Is Fun With the Mode Earn App
The Mode Earn App turns your mundane consumer habits into a superpower. It's a reward-based app that awards you points for completing regular activities, such as playing the radio and reading the news. You can redeem those points for many valuable rewards, including game cards.
If you're into gaming, you'll love game-based earning tasks, such as:
Playing your favorite games

Accepting game challenges

Trying new games

Completing difficult levels
When it comes to rewards, the Mode Earn App offers several redemption options, including:
Game-based prizes, such as:

Mobile Legends Diamonds

PUBG gift cards

Free Fire Diamonds

Popular gift cards, including those from

 

Amazon

, Walmart,

 

Target

,

 

eBay

, Sephora,

 

Starbucks

, and Best Buy (

redeem them online

 

or at stores)

PayPal

 

cash

Gadgets like mini-drones and headphones

Airtime

Crypto and stocks

Shopping discounts
You won't be glued to your phone doing pointless tasks for little payback. The Mode Earn App rewards you for completing tasks of your choice and gives you offers based on your phone engagement habits. You get a big cut of the revenue while enjoying your time on your phone.
The app holds a stellar rating of 4.4 on Google Play and has already been installed over 30 million times. It's a safe and quick way to build up your supplemental income—install the Mode Earn App today and see for yourself!
Source: Andrea Piacquadio
Double Your Rewards—Go Turbo With the Mode Earn Phone
The Mode Earn Phone comes preloaded with a Mode Earn App and an earn-as-you-go widget that doubles your reward points for the same everyday phone-based tasks. You can earn over $1,200 per year by using 16 earning modes on the device:
Music Mode

Games Mode

News Mode

Fitness Mode

Surf Mode

Lock Screen Mode

Watch Mode

Task Mode

Cash Mode

Save Mode

Charge Mode

Weather Mode

Data Mode

Crypto Mode

Finance Mode
The latest model—Mode Earn Phone MEP2—is compatible with all popular GSM carriers and gives you dazzling specs that every gamer (or non-gamer) would desire. The phone features a 4GB RAM, an octa-core processor, and a 4000 mAh battery that brings you a smooth gaming experience. The refined triple camera, large display, and quality design can give other high-end phones a run for their money.
Source: Mode Mobile
Get in the Game—Order a Mode Earn Phone Today!
You can get a Mode Earn Phone by:
Paying $109 (one-time price)

Subscribing to the phone for a monthly fee of $9.99, billed quarterly (after a

 

free trial

 

period of one month)
Subscribers receive an upgraded model of the Mode Earn Phone every 18 months. Even moderate use of the earning modes will ensure you recover your total investment in two to three months. Buy or subscribe to a Mode Earn Phone today and start making the big bucks!
How To Get Free Xbox Gift Cards and Codes
You can find websites offering both free Xbox gift cards and unused gift card codes on the internet, but you must be cautious when visiting such platforms. Most of these websites advertise some kind of "Free Xbox Gift Card Code Generator" that never works. If you click on these so-called code generators, you will be directed to shady pages asking you to reveal your personal and financial data and download apps that will infect your device with malware.
If you're looking for genuine methods to get free or discounted gift cards, choose offers that are transactional in nature. There are various legitimate options to get gift cards, and most of them require finishing promotional tasks ranging from easy to difficult. Currently, you can get free Xbox gift cards by:
Enrolling in the Microsoft Rewards program

Participating in social media giveaways

Using get-paid-to (GPT) and reward-based platforms
Source: Alena Darmel
Get Free Xbox Gift Cards
Through Microsoft Rewards
Xbox's parent company, Microsoft, offers a rewards program that allows U.S. users to get free stuff like Xbox gift cards for web surfing, gaming, and shopping with Microsoft. You can enroll in the program by:
Signing up on the

Microsoft Rewards website

Downloading the Microsoft Rewards app (available for Xbox consoles and smartphones)
Refer to the table below to get a clear idea of how the Microsoft Rewards program works:
Question

Answer

How do you earn points?

Once you've set up your account, you can start earning reward points for activities like:

Browsing with Bing or Microsoft Edge

Making purchases or

redeeming gift cards

at Microsoft Store

Using Microsoft's virtual assistant Cortana

Playing select games and completing daily quests on Xbox

Participating in polls and quizzes

How do you redeem points?

You can exchange your reward points to:

Get Xbox and Microsoft gift cards

Purchase an Xbox Live subscription

Rent content at

Microsoft Movies & TV

Buy Xbox products (games and accessories)

Enter sweepstakes

Make charity donations
While the program is a reliable way to earn Xbox gift cards, you have to put in a lot of work to gather sufficient redeemable points. As of now, Level-One Microsoft Rewards users can get the following retail value for their points:
| | |
| --- | --- |
| Points | Monetary Value (in U.S. dollars) |
| 1,700 | $1.25 |
| 3,100 | $3 |
| 5,000 | $5 |
| 10,000 | $10 |
| 25,000 | $25 |
| 50,000 | $50 |
| 100,000 | $100 |
Use Social Media To Find
Unused Free Xbox Gift Card Codes
Many pro-gamers have thriving social media pages where they host occasional giveaways (in collaboration with retailers) for popular game-based items, such as:
In-game currencies (

free Robux

, Mine Coins, Diamonds, and similar)

Game passes
You have to complete promotional tasks like trying a new game, liking and sharing a product, or recording a gameplay video to qualify for these prizes.
Giveaway offers are easy to find if you're considerably active on social media platforms frequented by gamers, for example, Reddit, Discord, and Instagram. Visit a platform of your choice and follow these high-volume Xbox-related hashtags to narrow down your search—#xboxgiveaway, #xboxgamepass, #xboxgiftcard, #xboxgc, #xboxgiftcardfree, and #xboxgiftcardcodesfree.
Source: FOX
Collect
Free Gift Cards for Xbox
Using GPT and Reward-Based Platforms
Get-paid-to and reward-based platforms offer deals similar to Microsoft Rewards—you get compensated for a variety of activities in your role as a consumer. You can find GPT and reward-based apps that reward you for:
Playing games

—Platforms like

Mistplay

and

Gamesville

allow players to earn rewards by playing games and participating in competitive challenges. These sites generally offer game cards and console cards as prizes, but you may not find Xbox gift cards on every platform

Shopping

—E-commerce platforms like

Ibotta

and

Rakuten

give you cashbacks for shopping on their website or app. You can use the cashback to buy other products sold on these platforms, including Xbox, Microsoft,

Google Play

,

Apple

, and

iTunes

gift cards

Answering surveys

—Your opinion as a consumer is what helps companies shape their future products and services. You can go to survey websites to participate in polls and quizzes tailored to your demographic profile. They'll reward you with gift cards, shopping discounts, and game cards. Some popular survey websites are

BrandedSurveys

,

SurveyMonkey

,

InboxDollars

, and

OneOpinion
Featured image source: Yan Krukov
Get Free Gift Cards In Minutes