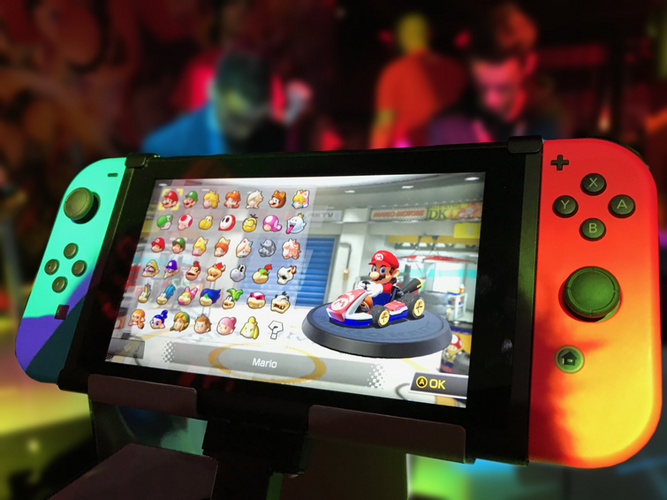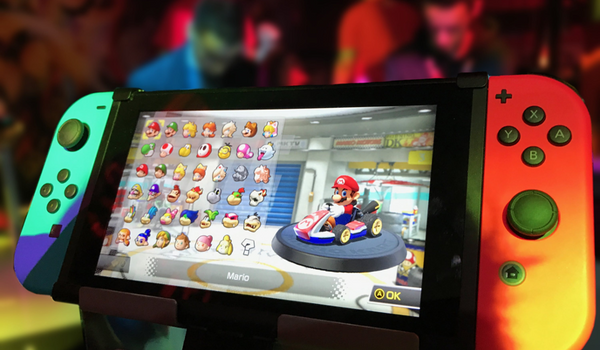 How To Use a Nintendo Gift Card—Redeem It the Right Way
A Manual to Using a
Nintendo Gift Card—Redeem
It in a Few Easy Steps
A Nintendo gift card—also called a Nintendo eShop card—is the ultimate virtual currency for anyone who loves Switch games. Whether you seek power-ups to save Princess Zelda or want a Booster Course Pass for Mario Kart 8, all you need is a Nintendo gift card—but how do you redeem it?
While a Nintendo gift card opens the gateway to more than 1,000 new, retro, and indie games, you may be confused about using it on different systems, such as a Nintendo Switch, Wii U, or Nintendo 3DS. This handbook will clear all your doubts about how to redeem a Nintendo gift card on a PC or a console.
This guide will also introduce you to Mode Mobile's products that help you accumulate hundreds of dollars for tasks like gaming and playing music on your smartphone!
Where and
How To Use a Nintendo Gift Card
—The Essentials
Nintendo gift or eShop cards—plastic or digital—are non-reloadable prepaid cards that can be used for purchases made at the company's online store—the Nintendo eShop. You can only redeem the card online on various platforms (or devices) that enable access to the store, which include:
Nintendo Switch

consoles, such as:

Nintendo Switch and Nintendo Switch Lite

Nintendo Switch—OLED Model

New Nintendo 3DS, 3DS XL, 2DS XL

Nintendo 3DS and 3DS XL

Nintendo 2DS

Wii U (Basic and Deluxe)
You can use your Nintendo gift card to purchase games, add-ons, playable characters, expansion packs, in-game boosters, applications, or other digital content on the company's online store. Currently, there are two ways to redeem a Nintendo gift card:
Store the gift card funds on your Nintendo account

—Go for this method when you don't have a particular game in mind and want the funds for future use. As of 2022, you can store up to $250 ($350 CAD or $5500 MXN) in your account

Use the gift card directly during checkout

—Nintendo also lets you redeem the gift card code during checkout. This is your only option to redeem a card if your account has reached its maximum capacity for storing funds 
You can execute these redemption methods on both PCs and gaming consoles as long as you're using your gift card code for a single Nintendo account only.
Source: Enrique Vidal Flores
How To Redeem a Nintendo eShop Gift Card
on a Computer
You can redeem a Nintendo eShop gift card by accessing any browser on a computer or a smartphone. The table below breaks down the steps for different redemption methods:
Redemption Method

How To Use a Gift Card on Nintendo eShop—Steps

Storing gift card funds on a Nintendo account

Navigate to the Nintendo store

Click on

SHOP ALL

from the expanded menu

Scroll down and click on the

Redeem Code

tab (alternatively, you can visit the redemption page directly by clicking

here

)

Enter the 16-digit redemption code

Hit

Next

Enter your password again, if prompted

Click on

Redeem

—the gift card balance will show up in your account

Using a gift card during checkout

Log in to your Nintendo account

Go to the Nintendo store and choose a game (or other digital content)

Re-enter your password, if asked

Navigate to

Payment Method

on the checkout screen

Select

Nintendo eShop Card

Enter your gift card code in the text box

Click on

Add Funds

—the gift card balance will automatically be applied to your purchase
Note that a Nintendo gift card code is located:
At the back of a physical Nintendo gift card

In the

delivery email

of a digital one
Source: Enrique Vidal Flores
Want Free Gift Cards and Extra Cash? Earn Effortlessly With Mode Mobile
If you want to earn a substantial side income without stress, go with Mode Mobile's products—the Mode Earn App and Mode Earn Phone. They help you earn rewards for completing regular phone-based tasks, including:
Playing games

Streaming music

Checking the news and the weather

Charging the phone

Watching short videos

Surfing the web
You can collect hundreds of dollars worth of free gift cards, game cards, cash, and other rewards for completing these activities.
Source: RODNAE Productions
How To Redeem a Gift Card on Nintendo Switch
and Other Consoles
Like with Xbox, the UI of Nintendo consoles tends to change with new updates, but the process of redeeming a gift card remains roughly the same. Refer to the table below to learn how to add a gift card to Nintendo Switch:
Redemption Method

How To Redeem a Gift Card on Nintendo Switch—Steps

Storing gift card funds to a Nintendo account

Go to the Nintendo Switch home screen

Navigate to the

Nintendo eShop

(or

Nintendo Store

) tab

Select

Enter Code

from the main menu

Type in the 16-digit code

Bump the Plus (+) button on your console to confirm—the balance will be converted to eShop credits for your account

Using a gift card during checkout

Pick out the game you want to buy

Click on

Proceed to Purchase

Select the

Nintendo eShop Card

option on the payment page

Type in your gift card code—a pop-up screen will flash your card's balance

Enter the corresponding gift card amount to pay for your purchase and:

If the gift card doesn't cover the cost of the game, add your credit card or PayPal info

If the gift card value exceeds the order total, choose if you want to transfer the balance to your account or keep it on the card

Enter your password

Hit

Add Funds and Purchase

and then

Close
Is the Gift Card Redemption Process Same for All Nintendo Consoles?
You can redeem your gift card on other Nintendo consoles (Wii U, 2DS/3DS, etc.) that allow you access to the Nintendo eShop. Know that these consoles only give you the option to add funds to your account—you cannot redeem the gift card directly during checkout. The redemption process is pretty much the same—all you have to do is go to the HOME menu, navigate to the eShop tab, and locate the Redeem Code option. If you're using a Nintendo 2DS or 3DS console, you can also add funds by scanning the QR code on the back of a physical eShop card.
Note that Nintendo will shut down the Nintendo eShop on Wii U and Nintendo 3DS by March 2023, and you can redeem a gift card on these systems only until August 29, 2022.
Where To Get Nintendo Gift Cards for Free
You can buy Nintendo's gift cards from various brick-and-mortar and online stores—including Walmart, GameStop, and Target—and find them for cheap on gift card resale and exchange websites. If you want to get Nintendo gift cards for free, though, you have to find the most lucrative opportunities to earn them on the side.
Many reward-based apps and websites are ready to pay you for tasks like answering surveys, writing reviews, and even playing games. Find a reliable platform and complete the earning tasks—you can get rewards like:
Gift cards

Game-related rewards

Open-loop gift cards (those with

Mastercard

,

Visa

, or

Amex

logos)
The problem with reward-based platforms is they're not all profitable. Earning on certain platforms can be a real pain in the neck if you have to complete time-consuming tasks for measly pay.
The Mode Earn App Turns Your Pastimes Into Income Opportunities
The Mode Earn App is one of the most profitable reward-based platforms on the market. It helps you earn up to $600 a year.
The app offers Android phone users a free service—all you have to do is download it from Google Play, and you can start earning reward points for completing eligible earning tasks.
The Mode Earn App offers a variety of earning tasks catering to different interests. For example, if you enjoy playing video games, you can earn points for beating a game level or trying a new game. The app's music-based earning tasks also help you earn while finishing your chores—stream your favorite songs, and you can earn even while doing the dishes or walking your dog.
You get an equally diverse assortment of redemption options with the Mode Earn App, such as:
PayPal

cash

Game-related rewards (

PlayStation cards

, Free Fire diamonds,

Fortnite V-Bucks cards

,

PUBG coins, and similar)

Airtime

Shopping discounts

Crypto and stocks

Physical goods (like Bluetooth speakers)
The Mode Earn App has millions of satisfied users across the globe and holds a rating of 4.4 stars on Google Play. It surpasses other reward-based apps thanks to its consistent earning rates, easy reward-bringing tasks, and hassle-free payouts. Install the Mode Earn App today to unlock a whole new way of making money.
Source: Mode Mobile
Why the Mode Earn Phone Is the Game-Changer for Side Income Earners
You don't have to look for other ways to increase your side income substantially—you can always get a Mode Earn Phone. The full-featured Android-based smartphone earns you twice as much as the Mode Earn App—over $1,200 a year—for the same phone-based tasks.
The Mode Earn Phone has a preloaded Mode Earn App and an earn-as-you-go widget enabling you to engage in 16 different earning modes:
Music Mode

Games Mode

News Mode

Surf Mode

Lock Screen Mode

Watch Mode

Crypto Mode

Finance Mode

Save Mode

Charge Mode

Weather Mode

Task Mode

Cash Mode

Data Mode

Fitness Mode
The phone is packed with all the latest specs ensuring the best performance:
Source: Mode Mobile
Want to try the Mode Earn Phone? There are two ways to do that:
Buy the phone for a one-time price of $109

Subscribe to the phone

for $9.99 (monthly fees billed quarterly)
The subscription model offers a free trial period of one month. Users who keep the subscription get a newly launched model of the Mode Earn Phone every 18 months.
Even with moderate use of the Mode Earn Phone, you will earn back the investment in it within a couple of months.
Featured image source: Pixabay
Get Free Gift Cards In Minutes