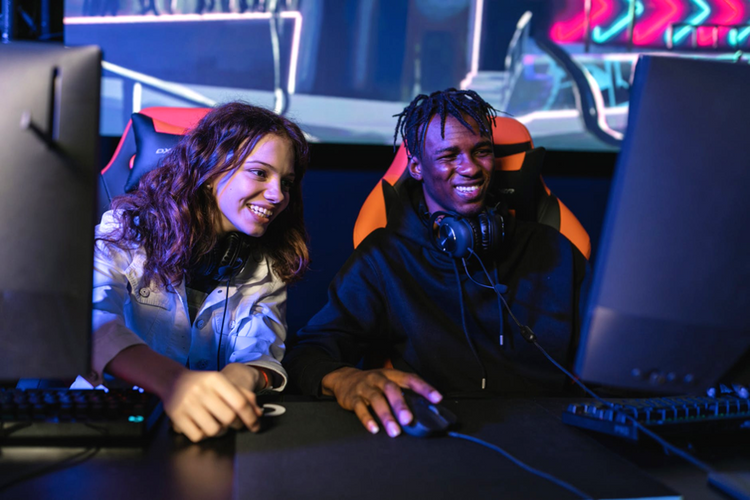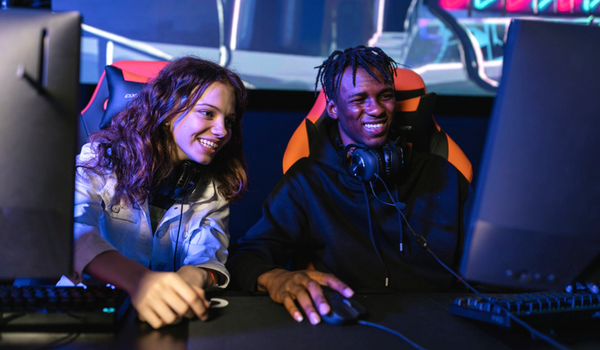 Using a Steam Gift Card—Redeem It in a Few Easy Steps!
Clearing the Mist on a
Steam Gift Card—Redeem
It the Right Way
Steam has become quite the Netflix of the gaming world. The digital platform hosts thousands of old and new games and downloadable content that can be browsed and wishlisted and then purchased using traditional cards, PayPal, and gift cards.
So, how to pay with a Steam gift card—do you redeem it directly on the payment screen, or is there a secret hack to it? This guide will provide straightforward answers on:
Where and how to redeem Steam gift cards

What to do when you

can't redeem your Steam gift card
If you're tired of saving up funds for games and in-game purchases, start using Mode Mobile's products. They help you earn free gift cards, game cards, and extra cash for engaging in regular phone-based activities like gaming and streaming music.
How To Use a Steam Gift Card
—What You Should Know
A Steam gift card is a physical or digital stored-value card that can be used to acquire all kinds of games, in-game items, and other hardware and software products hosted in the platform's cloud-based library.
Source: Joshua Livingston
Currently, you can redeem the gift card only online via your Steam account. The catch is that you have to load the gift card to your Steam Wallet first.
A Steam Wallet is essentially a virtual cache of funds that can be used as an alternative to credit, debit, and prepaid cards, as well as Mastercard, Amex, and Visa gift cards. As of 2022, the only way to use a Steam gift card is to transfer its balance to your Steam Wallet—this is precisely why Steam gift cards are also called Steam Wallet codes.
Once you have loaded your gift card balance to your Steam Wallet, the amount will be stored in your account and automatically applied to your next purchase. Funds added to your wallet don't expire.
How To Redeem Gift Cards on Steam
You can redeem a Steam gift card by accessing your Steam Wallet via your account—and there are various ways to do that. Since Steam's UI and PC application layout keep changing, many users struggle to locate the redemption screen.
We have streamlined all redemption methods in the following section—it's only a matter of choosing the one that's most convenient for you.
How To Add a Steam Gift Card To Steam Wallet
Check out the various methods of adding the funds from your Steam gift card to the Steam Wallet in the table below:
Redemption Methods

Steps

Method 1 (works on any browser or PC application)

Log in to your

Steam account

(or create one)

Click on your profile name at the top-right corner of the screen

Select

Account Details

Go to the

Store & Purchase History

section

Choose

Add Funds to Your Steam Wallet

Click on

Redeem a Steam Gift Card or Wallet Code

(on the right side of the page, below

YOUR STEAM ACCOUNT

)

Enter your

gift card code

Hit

Continue

—you'll get a pop-up saying your gift card was redeemed successfully

Method 2 (works on a PC application)

Log in to your Steam client on your PC

Go to the

Games

menu at the top of your dashboard

Select

Redeem a Steam Wallet Code

from the drop-down menu

Enter your gift card code in the text box provided

Click on

Continue,

and the funds will show up in your Steam Wallet

Method 3 (works on a PC application)

Log in to your Steam client

Navigate to the

LIBRARY

tab

Click on

+ADD A GAME

to the bottom left

Choose

Activate a Product on Steam

Hit

NEXT

and then

I AGREE

Type in the product code in the text box

Click on

NEXT

—you'll get the

Success!

pop-up screen
Note that you may be asked to provide your shipping address during the redemption process if you haven't entered it into your account already.
Source: RODNAE Productions
How To Redeem a Steam Gift Card on
Your
Mobile
Phone
Redeeming your gift card on Steam's Android and iOS apps is not possible as of now. These apps mostly function as social media platforms—making it easier for you to chat with your Steam friends, browse community groups, and keep up with the latest gaming news and sale offers. That being said, you can always access your Steam account via your mobile browser and redeem the card, as explained in the section above (refer to Method 1).
Need Free Gift Cards or Cash? Making Gaming Your Superpower
Gaming is all about blowing off steam—you get the ultimate dopamine kick every time you beat an opponent or level up. Unfortunately, the prices of some of these games are sky-high. You have to wait for months to see some discounts or even get several part-time jobs to save up for an expensive game—that's pure drudgery!
Luckily, you can find fantastic opportunities to earn some extra cash on the internet. Get-paid-to platforms and reward-based apps compensate you for doing online tasks like reading emails, answering surveys, writing product reviews, and downloading new apps. It's give-and-take as you're getting paid for contributing to market research and product promotions.
Mode Mobile revolutionizes the earning game—it enables you to earn by doing the activities you enjoy, such as gaming and jamming to songs. You can also get rewarded by completing the following phone-based tasks:
Reading the news

Tuning in to the radio

Completing surveys

Charging the phone

Checking the weather

Browsing the internet

Watching short videos

Tracking fitness goals through the phone
Mode Mobile gives you points for these tasks, which can be redeemed for hundreds of dollars worth of rewards annually. Use the company's services by downloading the Mode Earn App or getting a Mode Earn Phone.
Source: RODNAE Productions
Redeeming Steam Gift Cards
—Common Questions Answered
Got more questions? The Q&A table below contains answers to common queries users have about redeeming Steam gift cards:
Question

Answer

Where is the code on a Steam gift card?

Here's how you locate the redemption code on your gift card:

Physical Steam gift card

—The code is located at the back of the card, hidden under a scratchable or peelable strip

Digital Steam gift card

—The code is provided to you in the

gift card delivery email

How can you activate a Steam gift card?

Steam gift cards are usually activated by the seller right after purchase. If you got the card from a retail location, you might have to wait 24 hours before the card is activated—relevant instructions are usually listed on the receipt. Your code may become corrupted if you use it prior to the activation, so be wary about that

Can you redeem Steam gift cards for cash?

You cannot redeem a gift card for cash, but you can liquidate it. Here's how to cash in Steam gift cards:

Resell them online

, or exchange them for other desirable gift cards (

Roblox

,

Apple

,

Xbox

,

Nintendo

,

GameStop

,

Google Play

, and similar ones)

Post a classified ad

Exchange them for cash

via a gift card kiosk in your city
What To Do When a
Steam Gift Card Won't Redeem
There can be many reasons for not succeeding in redeeming a Steam gift card, such as:
Your card is yet to be activated

You're entering a used or compromised code

You are redeeming the card in a currency other than the one used by your Store country—Steam used to allow inter-currency gift card conversions, but they modified their policy to prevent

money laundering

scams
If you're facing any issues while redeeming your gift card, you can contact Steam's customer service online or call them at (425) 889-9642.
Source: Andrea Piacquadio
The Mode Earn App Showers You With Rewards
The Mode Earn App is a reward-based app designed to help you earn by doing simple tasks on your phone. The app offers a user-customized experience. For example, if you're into gaming, you can collect rewards for completing fun game-based tasks like:
Playing your favorite games

Trying newly launched games

Completing in-game challenges

Reaching new levels
You can earn up to $600 with the Mode Earn App—it is completely free and can be downloaded from Google Play. Millions of users use the app daily to earn cash and in-kind rewards—you can browse some of the reward options here:
Type of Reward

Options

Cash and versatile payment cards

Game-based rewards

Gift cards

Investments 

Cryptocurrencies

In-demand stocks

Physical products

Bluetooth headsets

Mini-drones

Headphones

Others

Airtime

Shopping discounts

Charity donations
The Mode Earn App is all about user satisfaction. It has 4.4 stars on Google Play and continues to serve its earners by offering:
Scores of tasks with a high earning rate

Quick and easy payouts

Regular offers to boost earnings

A safe and stress-free earning experience

Quality customer support
Add value to the time you spend on your phone—install the Mode Earn App and start earning right away.
Source: Tima Miroshnichenko
Double Your Rewards—Charge Full Steam Ahead With a Mode Earn Phone
If the Mode Earn App is a shower of rewards, the Mode Earn Phone is a full-on blizzard. The Android-based smartphone enables you to earn over $1,200 for the same phone-based tasks—double of what you can earn with the app alone.
The Mode Earn Phone comes with:
A preloaded Mode Earn App

An earn-as-you-go widget with 16 different earning modes you can take advantage of, such as:
Games Mode

Cash Mode

Task Mode

Music Mode

Lock Screen Mode

Fitness Mode

Crypto Mode

Weather Mode

News Mode
Some of these earning modes are built to help you earn even when you're not actively using your phone. The Mode Earn Phone goes beyond earning—the device has an elegant design and packs all specifications you'd want in a high-end Android smartphone:
Source: Mode Mobile
The best part is that Mode Mobile lets you enjoy the full-featured phone and earning modes for an affordable price. You can get a Mode Earn Phone by choosing one of the two options:
Buy the phone for a one-time price of $109

Subscribe to the phone

for a monthly fee of $9.99 (billed quarterly)
If you opt for the subscription option, you can get:
A one-month free trial

The latest Mode Earn Phone model every 18 months
Most phone users earn back their investment within three months of moderate use. Mode Mobile also offers attractive rewards for referring the phone to friends. Buy or subscribe to the Mode Earn Phone and take your income to the next level.
Featured image source: Alena Darmel
Get Free Gift Cards In Minutes