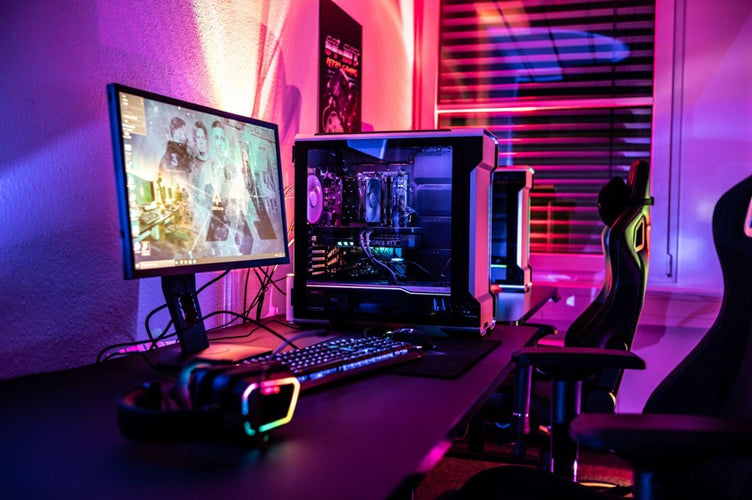 A Guide to Finding Free GameStop Gift Cards
How To Get a
Free GameStop Gift Card
—Easy Way to Non-Stop Gaming
GameStop gift cards are designed to be used for all kinds of game-related purchases, which is why they are so popular among gamers. While you can get your own gift card, buying it won't give you the high of receiving one for free. Luckily, you can enjoy the perks of a free GameStop gift card, even if no one remembers to get it for you.
In this article, we'll highlight some of the most popular methods of getting free GameStop gift cards and explain which one is the most efficient and reliable. We'll also talk about Mode Mobile—a company that helps budget-conscious consumers earn a substantial side income by using their phones for everyday activities. Install the Mode Earn App to get free gift cards now!
GameStop Gift Cards—Basic Info
GameStop has both plastic (physical) and electronic (digital) gift cards in their offer, both of which can be redeemed at the company's website or in stores.
You can use your GameStop gift card to buy any product or service the company offers, including:
Video games

PC components

Accessories and consoles (Oculus, Nintendo,

Xbox One

, etc.)

Electronics (

Apple

smartphones, GoPro cameras, and DJI drones)

Gift cards from other companies (such as

Roblox

,

Google Play

,

Xbox

,

Steam

, and

Spotify

)—only at physical GameStop stores
Source: Jakub Sisulak
Where To Find
GameStop Gift Cards for Free
You can find GameStop gift cards and unused gift card codes for free on various platforms, but you should be wary when visiting those types of websites and apps.
You'll most likely come across websites that offer some kind of a Free GameStop Gift Card Generator—sounds great, but the problem is that these generators typically don't work as they are usually scams. Most times, clicking on a so-called code generator gets you redirected to a suspicious page that requires you to reveal your personal and financial information. Other times, you might be asked to download apps that will infect your device with malware.
If you're looking for safe and reliable methods of getting free or cheap gift cards for GameStop, choose the ones that are transactional in nature. You can find numerous legitimate ways to get free gift cards, and most of them require completing certain tasks (ranging from easy to difficult) in return.
At the moment, you can find free GameStop gift cards by:
Entering a giveaway

Completing questionnaires on survey websites

Doing tasks on Get-Paid-To (GPT) platforms
Entering a Giveaway To Earn a
Free GameStop Gift Card Code
Gamers with booming social media pages occasionally host giveaways (in collaboration with retailers) for popular game-based items, such as:
In-game currencies (e.g., Robux and Mine Coins)

Game passes

Gift cards and codes (for GameStop, Twitch,

Steam

, Xbox, etc.)
Participating in these giveaways is simple—you usually have to complete promotional tasks like trying a new game, liking and sharing a post, or recording a gameplay video.
Giveaways are easy to find if you're active on social media platforms frequented by gamers.
To find such giveaways, visit a platform of your choice—Discord, Twitch, Reddit, Instagram, and even TikTok—and search for the following and similar hashtags:
#gamestopgiftcardgiveaway

#freegamestopgiftcard

#freegamestopgiftcardcode

#freegamestopgc
Source: Caspar Camille Rubin
How To Get Free GameStop Gift Card Codes
by Filling Out Surveys
Answering questionnaires on survey websites has always been one of the most popular methods of getting free gift cards—those for GameStop included— and for a good reason. Survey websites collect information from customers of varying demographics and sell that data to corporations. The information helps companies improve their products and services. So whenever you complete a survey hosted on such a platform, you practically receive a share of the website's revenue.
To learn more about this method of earning GameStop gift cards and gift card codes, consult the Q&A table below:
Question

Answer

How do I start earning on survey websites?

Here is what the process typically entails:

Log in or sign up to a chosen website

Create a profile with your demographic data

Answer the suggested surveys

Collect your compensation whenever you're eligible to do so

How do I get paid for completed surveys?

Survey websites usually pay you with gift cards for in-store or online use, checks, shopping discounts, etc.

Where can I complete surveys?

Some of the most popular websites that host paid surveys and offer free GameStop gift cards are:

Survey Junkie

Swagbucks

Branded Surveys

MyPoints

Is there a minimum redemption amount?

Most websites have a minimum cashout or withdrawal threshold, typically between $5–$30
Using a Reward-Based Platform To
Earn Free GameStop Gift Card Codes
Reward-based platforms work in a similar way as survey websites—you complete a certain eligible task and get rewarded with redeemable points. Once you collect enough points, you can exchange them for a GameStop gift card.
You can find websites and apps that reward you for:
Playing games

—Certain platforms (e.g., Mistplay and Gamesville) allow users to earn different rewards by playing mobile games and participating in competitive challenges. Rewards are usually in the form of game cards and console cards, but note that you may not find GameStop gift cards on every platform

Shopping

—Some popular e-commerce websites and apps (such as Ibotta and Rakuten)

give you cashbacks for shopping on their platform. Cashback can later be used towards purchasing other products sold on these platforms, including GameStop, Microsoft, Google Play, and

iTunes

gift cards

Answering surveys

— If you like this type of activity, you can still enjoy it on a platform that provides many other earning opportunities besides surveys. Download a reward-based app, and you can get rewarded with gift cards, shopping discounts, and game cards, among other items
Free GameStop Gift Cards Codes
—How To Recognize a Safe and Viable Platform
Even though the market is oversaturated with reward platforms, finding a trustworthy one that offers lucrative rewards is not that easy. When deciding on a platform, consider the following factors:
Reward availability

—If you're looking for GameStop gift cards, research some of the most popular platforms and choose one that offers them. You can also go for the ones that offer:

Cash

(you can use it to

buy the desired gift card

or anything else you want)

Gift cards for superstores that sell a wide variety of items, like

Walmart

and Amazon

Mastercard

,

Amex

, or Visa gift cards (they are accepted by multiple retailers)

Rewards and time-investment ratio

—Depending on the platform you choose, you might have to spend hours completing demanding tasks only to get petty cash, and that shouldn't be the case. That's why you should go only for apps that are irrefutably worth your time, and you can check that out by reading user reviews
Source: Ketut Subiyanto
When discussing safe, time-efficient, and profitable methods of earning rewards, one company stands out—Mode Mobile. The company enables you to earn gift cards, game and console cards, prepaid cards, and even cash by using your phone for everyday activities, such as:
Playing games

Shopping

Charging your phone

Tracking fitness goals

Checking the weather

Listening to the radio and streaming songs
The company offers two products:
Mode Earn App

—a

free reward-based app

that works on all Android devices and can help you earn up to $600 a year

Mode Earn Phone

—an Android-based smartphone that helps you earn twice as much as the app alone (over $1,200 a year) for the same tasks
How To Get Gift and Game Cards With the Mode Earn App
The Mode Earn App is a reward-based app that lets you collect points for completing daily phone tasks and doing fun activities, such as playing music and checking the weather. You can redeem accumulated points for numerous valuable rewards, including game cards.
For users who like gaming, the app offers a selection of game-based earning tasks, such as:
Playing favorite mobile games

Trying out new games

Completing difficult levels

Accepting and completing game challenges
Unlike with many reward apps, you won't have to be glued to your phone to earn a little payback. The Mode Earn App rewards you for performing activities you choose and gives you offers based on your phone habits. You'll be able to earn even for locking and unlocking your device.
As for the rewards, the Mode Earn App offers a variety of redemption options, some of which include:
Game-based prizes, such as:
Mobile Legends diamonds

PUBG gift cards

Free Fire diamonds
Gadgets like mini-drones and headphones
Airtime
Crypto and stocks
The app holds a stellar rating of 4.4 stars on Google Play, with over 2.6 million satisfied users leaving a review. Need a safe and quick way to build up your supplemental income? Install the Mode Earn App today!
Source: Mode Mobile
Get the Mode Earn Phone To Earn Rewards Faster
The Mode Earn App is one of the best apps you can use to earn rewards and side cash, but why stop there? The Mode Earn Phone comes with the Mode Earn App and an earn-as-you-go widget already installed, doubling your points for the same phone-based tasks. This means that you can earn over $1,200 per year by using the following 16 earning modes on the device:
Games Mode

News Mode

Fitness Mode

Music Mode

Surf Mode

Lock Screen Mode

Watch Mode

Task Mode

Cash Mode

Save Mode

Charge Mode

Share Mode

Weather Mode

Data Mode

Crypto Mode

Finance Mode
Being a money-making machine is not the only good thing about this phone. The latest model—Mode Earn Phone MEP2—has excellent specs that any gaming enthusiast would enjoy. The device features 4GB RAM, an octa-core processor, and a 4000 mAh battery that brings you a smooth gaming experience. The Mode Earn Phone is also compatible with all popular GSM carriers.
Source: Mode Mobile
Order a Mode Earn Phone Today and Get in the Earning Game!
You can get a Mode Earn Phone by:
Making a one-time purchase of $109

Subscribing to the phone for a monthly fee of $9.99, billed quarterly (after a one-month free trial)
Note that subscribers receive an upgraded model of the Mode Earn Phone every 18 months (when it's released).
Reluctant about spending your money? Keep in mind that even moderate use of the earning modes (about four hours a day) will ensure you recover your total investment in 2–3 months. Buy or subscribe to a Mode Earn Phone today to start making the big bucks!
Featured image source: ELLA DON
Get Free Gift Cards In Minutes