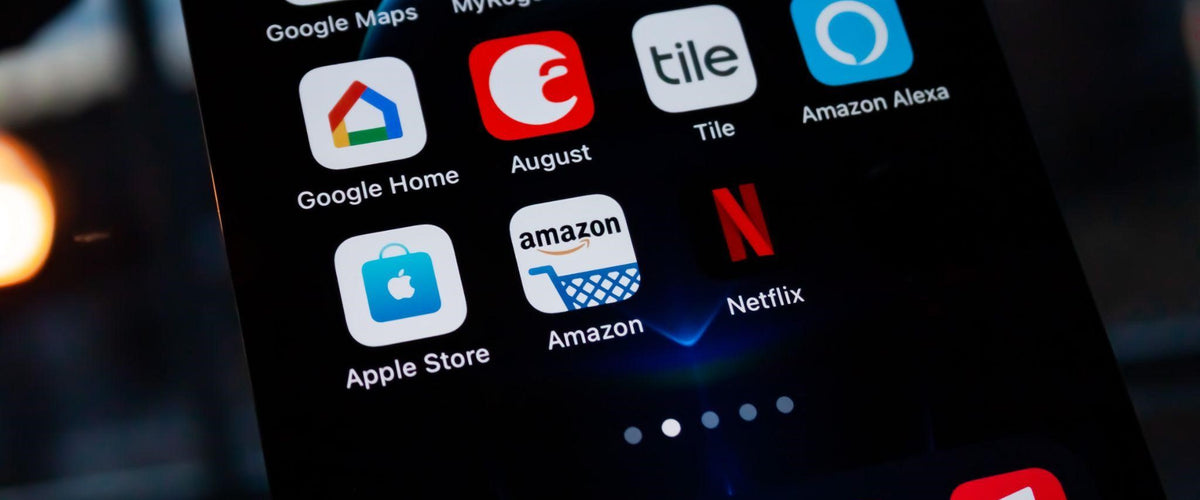 How To Redeem an Amazon Gift Card With Ease
Step-by-Step Guide on How To Redeem an Amazon Gift Card
If you've bought yourself an Amazon gift card or have received one as a present, it's time to redeem it. Most online stores allow you to redeem a gift card at the checkout when buying an item, but Amazon works a bit differently.
In this article, we'll show you how to redeem an Amazon gift card online and what you can do with the funds you receive. We'll also teach you how to earn free Amazon gift cards through your everyday phone use with Mode Mobile.
Invest in yourself
Get $20 from Stash & an $60 Mode Mastercard after you deposit at least $5 into a new account.
How To Redeem an Amazon Gift Card
Amazon offers five different types of gift cards:
| | |
| --- | --- |
| Type of Amazon Gift Card | How It Works |
| Physical card | A plastic card in packaging shipped to your (or other recipient's) address |
| Electronic card | A digital gift card that you can send to a recipient. The card will arrive via text, messaging app, or email within five minutes |
| Specialty gift card | You can use Amazon's website to buy a gift card for another company or retailer, including Uber, Apple, Steam, Whole Foods, Starbucks, etc. |
| Printed at home | It comes in the form of a PDF file that you need to print out and fold into a greeting card. You can decide what the card will look like and customize it by uploading a custom photo |
| Amazon Reload | Although not a gift card in the traditional sense, Amazon Reload allows you to load an Amazon gift card you already own or any other issued by Amazon. It comes with an Auto-Reload option |
You can redeem all gift cards the same way, regardless of the type. Each card will contain a gift code that you need to type in to receive the funds.
You have two methods of redeeming your card, depending on the device you're using:
Mobile phone

Desktop
How To Redeem
an
Amazon Gift Card on the App
Source: Mikhail Nilov
If you want to redeem a gift card using your mobile device (both iOS and Android are supported), you need to take the following steps:
Open the app 

Log in and tap on

Hello

to navigate through the menu

Select the

Payments

option and then click on

Your Payments

Tap on

Amazon Gift Card

Click on

Redeem a Gift Card

Enter your gift card number and PIN

Tap on

Apply to Your Balance
How To Redeem a Gift Card on Amazon
Website
The process is similar if you decide to cash in your funds using your PC. You need to:
Go to the

Amazon website

and sign in

Choose the

Account

option right under

Hello

and select

Account

from the drop-down menu

 

Select the

Your Payments

option (you can skip the first three steps by using the

Redeem a Gift Card

link)

Choose

Amazon Gift Card

Click on

Redeem a Gift Card

and enter your gift card information

Press

Apply to your balance
Where Is the Claim Code on an Amazon Gift Card?
Electronic and print-at-home cards will come with the code specified in the PDF file or the text message you receive. If you have a physical gift card, you'll be able to find gift card information on the back of the card.
In most cases, you will see the printed information immediately, but some designs come with a covering you need to remove, similar to scratch cards.
Mode Mobile—
How To Get Your Gift Card Code for Amazon
 

for Free
Source: Mode Mobile
Everybody loves free gift cards, especially those who buy items on Amazon frequently and are looking for ways to use their budget more wisely. Now, unless someone you know buys you a gift card as a present, you'll have to get one yourself because Amazon is in no business of handing them out willy-nilly.
That's where Mode Mobile jumps in! Mode Mobile is a company that allows you to earn money by using your mobile device. When you install the Mode Earn App, it will run in the background and monitor your behavior. You will receive reward points every time you complete an activity that the app supports.
You can get rewarded for a plethora of activities, including:
Reading the news 

Watching videos

Installing partner apps

Surfing the internet

Taking deals

Locking the phone

Charging the phone

Checking the weather

Listening to music
Once you collect enough reward points, you'll be able to convert them into an Amazon gift card.
What makes the Mode Earn App unique is the diversity of activities it offers—you can complete one of 16 different activities and get rewarded for it. The Mode Earn App is also the first one that introduced listening to music as a payable pastime.
You can get in on the Mode Mobile program in one of two ways:
How To Get Our Money-Making App
You can download and install the Mode Earn App from the Google Play Store for free.
The app comes with high laurels. It has over 30 million downloads. On Play Store, more than 2.6 million reviews users left a review, and the app has an average rating of 4.4/5 stars!
Once you have this free app on your phone, you'll be able to make $600 and more a year that you can exchange for an Amazon gift card. If you want to switch it up, you can use the reward points to get other items, such as products, cryptocurrency, cash, and other types of gift cards, such as for Roblox and Fortnite.
Double Your Gains—Get the Mode Earn Phone
With the Mode Earn Phone, you get a high-end device that will replace your old phone and enhance your user experience. More importantly, you'll get a phone that will pay for itself and cover your purchase and data plan costs in a matter of months.
The Mode Earn Phone comes with a pre-installed Mode Earn App that will make you money through 16 rewardable modes. The beauty of using the Mode Earn Phone is that the app rewards double, allowing you to earn $1,200+ in a year.
You can subscribe to Mode Earn Phone in one of the following ways:
Free trial

—The only initial cost is the shipping fee. Afterward, there's a monthly subscription fee of $9.99, billed quarterly

One-time payment of $109
When you get the phone, you'll also receive a 12-month warranty for the device and a 6-month warranty for the battery. Every year, Mode Mobile launches a new, improved model, and you'll be on the delivery list.
How To Use an Amazon Gift Card
Once you redeem the Amazon gift card, the funds will be added to your account balance, and you'll be able to start using the gift card online. While you can buy a gift card for someone else, note that once you redeem it, the funds are:
Non-transferable to another account

Non-convertible into cash (i.e., you can't withdraw directly)

Impossible to use for buying a different Amazon gift card (you will be able to buy third-party cards sold on Amazon, though)
When you make your next purchase, you will get to choose whether you want to use the gift card money or the funds you've deposited. The good news is that Amazon gift cards don't expire, so you can hold on to yours and wait for the perfect opportunity.
Aside from items sold on the website, you can use the money you receive on a variety of websites owned by or partnered with Amazon. These platforms include:
Source: ANIRUDH
A number of retailers accept Amazon gift cards as payment, including:
Common Issues With Amazon Gift Cards
If you try to add gift card money to your account, and you don't see any funds showing up in your balance or the app reports an error, don't worry—that doesn't make your gift card worthless.
Issues with gift cards crop up from time to time, and you can resolve most of them with ease. The most common issues include:
The gift card or gift voucher has already been redeemed

The gift card was applied to the wrong account

Unreadable gift code
The Gift Card or Gift Voucher Has Already Been Redeemed
Amazon will report an issue with the card having already been redeemed when you (or someone else) have already claimed the gift code. If nobody else has been using your gift card, reload your account balance page a few times, and the funds will most likely show up.
If you're still facing issues, you can contact Amazon customer service.
The Gift Card Was Applied to the Wrong Account
Gift cards are tied to the account they're redeemed on and cannot be transferred to someone else. Make sure you're logged in to your account when you're going through the redemption process to avoid any overlapping problems.
Unreadable Gift Code
If you have a physical gift card, it can get worn out, and the back of it can get damaged—which can make the gift code unreadable. This is especially common if you hold on to your card for some time.
When this happens, you'll need to reach out to customer support. They will be able to find out what the code is if you provide the following information:
Card's serial number (contains either 16 or 30 digits)

Names of the purchaser and the recipient

Order number (if available)

The recipient's contact information, containing one of the following:

Email address the gift code was emailed to

Street address the gift card was shipped to 
More Guides That Will Help You Get Your Cash Back
Looking for more ways to get cashback? Check out the guides we have on gift cards from Amazon, Fortnite, Roblox, and others:
Featured image source: James Yarema
Get Free Gift Cards In Minutes