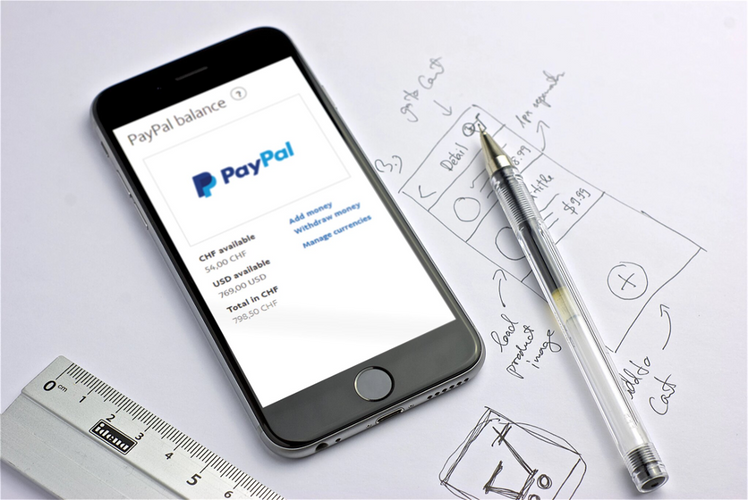 How To Add a Mastercard Gift Card to PayPal
Using a
Mastercard Gift Card on PayPal
—A Simplified Guide
A Mastercard gift card can be conveniently exhausted online and in stores, but what about using it with payment systems like PayPal? Adding your Mastercard gift card to PayPal would make sense, especially if you're a regular user of this payment platform. 
In this article, you will learn how to link your Mastercard gift card and prepaid Mastercard with your PayPal account.
We'll also show you how to improve your finances with Mode Mobile. Our products enable you to earn free gift cards and PayPal cash by downloading the Mode Earn App from Google Play!
Earn an easy $4 TODAY!💸
Take full control of your subscriptions. Earn a $4 Mode MasterCard when you sign up and link your bank account to Rocket Money!
How
Can I Add a Mastercard Gift Card to PayPal
?
According to PayPal's user agreement, you can currently add gift cards from the following four merchants only:
Mastercard

Visa

American Express (AMEX)

Discover
If you want to exhaust your Mastercard gift card balance for a PayPal transaction, you can:
Provide the card details directly during checkout

Add the card to your personal account beforehand
Based on the experiences shared by PayPal users, adding a gift card to your account comes in super handy, especially if the gift card holds a considerably large balance and you want to exhaust it over multiple online transactions. Here's how you connect your Mastercard gift card to PayPal:
Navigate to your

PayPal Wallet

Click on

Link a card

Enter your card details as prompted, such as:

Card number

Name on the card (if you don't have a

personalized gift card

with your name, add whatever's printed in place of the name, e.g., "A GIFT FOR YOU")

Expiry date

PIN

Click on

Save
Once you've punched in your card details, you will be taken to the issuer's page for verification. You'll receive an authentication code on a phone number (or email, in case it's an eGift card) linked to your card. Enter the code on the verification page, and your gift card will be ready to use on PayPal. It will appear along with the other debit or credit cards you've added to your account.
What To Do After I've Used My Gift Card
Gift cards are only good until they've balance left on them. Once you exhaust the balance, it's better to remove the Mastercard gift card from your list of cards to prevent confusion during transactions. Follow these steps to remove a card:
Go to your

PayPal Wallet

or

Payment Methods

Select the Mastercard gift card and hit the

Edit

button

Click on

Remove Card
Many users complain about being unable to remove a card if their account has a negative balance. In such cases, you must take steps to bring your balance to zero or higher before proceeding with the card removal.
Source: JAHANGIR ALAM
How
Can I Use a Prepaid Mastercard on PayPal
?
A prepaid card essentially works similar to a gift card, the only difference being that prepaid cards can be reloaded with cash indefinitely. PayPal allows linking your account with any prepaid card as long as it has a Mastercard, Visa, Amex, or Discover logo on it. The process of adding the card is the same—log in to your PayPal account and link the prepaid Mastercard to it like you would any other card.
Remember that, unlike gift cards, most prepaid cards impose numerous fees and charges, such as balance inquiry fees and transaction fees. Always ensure your prepaid card has enough balance to cover both—the value of a transaction and the fees associated with it.
TODAY get a FREE stock and $15!💰
Get 1 FREE stock worth up to $225 + a $15 Mode MasterCard after you sign up for Robinhood and fund your account with at least $1!
PayPal Is Not Accepting Prepaid Mastercard
—What Can I Do?
If you are struggling to use your Mastercard gift card or prepaid card on PayPal, the reason could be a verification or a transaction issue. Refer to the table below for solutions:
Reason for Card Refusal

Details

Verification failure

Your card won't load to your PayPal account if there is a hiccup during the verification process, usually related to:

Unspecified ZIP code or address on the card

In such cases, you need to contact the issuing bank for support. The service phone number is usually provided at the front or back of a Mastercard

Incompatible transaction

Certain prepaid or gift cards may be unfit for select situations, such as:

Foreign transactions (although many Mastercard prepaid cards are enabled for

international

usage these days)

Recurring bills (PayPal doesn't allow connecting limited-value cards for recurring bills, but certain cards, like the

Emerald Prepaid Mastercards

, may be acceptable because they come with features that make year-round usage possible)
If PayPal doesn't accept your card, try redeeming it at popular e-commerce websites like Amazon or Walmart. In case the card is rejected everywhere, you may have to reach out to Mastercard customer service for help.
Can I Transfer Money From a Prepaid Mastercard to PayPal
or Bank Account?
Many users are curious whether they can top-up their PayPal Cash account balance with their prepaid Mastercard or gift card. Currently, there is no option to do so, but only because it would be redundant. PayPal cash and linked cards can be used interchangeably at various payment terminals. As long as you add your card to your account, you are free to exhaust its balance towards any eligible transaction. If you want to reload your PayPal Cash account, you can do it only through a linked bank account.
Adding your Mastercard balance to your bank account may be a bit complicated but is still doable if you have two PayPal accounts (essentially accounts linked to different email addresses).
To execute this, follow the steps below:
Link your gift card to one PayPal account and your bank account to another

Transfer the balance from your gift card to the first PayPal account 

Move the money from the first PayPal account to the one connected to your bank account

Cash out

the money
PayPal charges about 3% for such transfers, which have to be paid out of your gift card or prepaid card, as the case may be.
Source: Firmbee.com
Would You Like a Regular Supply of Free Gift Cards and PayPal Cash?
Having gift cards and PayPal cash handy certainly makes shopping easier for everyone. What makes it even better is that you can get them for free.
Many people are not aware of the numerous easy and legit ways to earn free gift cards and other rewards through the internet, such as:
Answering surveys

—Your opinion as a consumer is valuable to companies as it helps them shape their future products and services. You can share your opinion by going on trusted survey websites and getting compensated with gift cards and similar prizes

Participating in giveaways

—If you use social media platforms like Instagram, participating in giveaways is an ideal way to grab freebies. All you have to do is follow hashtags like #giveaways, #contests, and #freegiftcards to notice such opportunities. You can get rewarded for something as simple as sharing a photo

Using reward-based apps

—Installing a reward-based app is by far the most convenient way to get free gift cards and side cash with little effort. These apps enable you to earn through a variety of tasks like playing games and watching ads. Keep in mind that not all reward apps will be worth your time. Go for the ones that offer you guaranteed rewards through easy earning tasks
Get Paid for the Simplest Tasks With Mode Mobile!
Mode Mobile has revolutionized the earning game with products that pay you for performing daily activities, such as listening to music, shopping, playing games, reading the news, checking the weather, and even charging your phone.
Our rewards include gift cards, prepaid Mastercards, and PayPal cash, among others. We offer:
Mode Earn App

—A free-to-download, subscription-free app with a 4.4 rating on Google Play

Mode Earn Phone

—The Mode Earn Phone is the ultimate Android smartphone for budget-conscious people. It can double the earnings from our app!
The Mode Earn App Turns Your Phone Into an Income Source
All you have to do is download the Mode Earn App from Google Play, and you can start racking up points for simple activities like streaming music, watching videos, and browsing the internet.
Source: Bruno Gomiero
We are not like other reward apps that consume hours of your time and only pay you with low-value gift cards. We offer a high earning rate and several lucrative reward options, explained in the table below:
| | |
| --- | --- |
| Reward Options | Details |
| Gift cards | We bring you all the coveted gift cards in the market, including those from: |
| PayPal cash | You can convert your reward points into money by using our PayPal cash-out option |
| Prepaid Mastercards | If you like versatile payment cards, exchange your points for a handy virtual prepaid Mastercard |
| Physical goods | Trade your points for some of the coolest gadgets and electronics |
| Investment | If you're the investor type, use our cryptocurrency and stock redemption options |
We offer many other redemption options like airtime and donations to charity. You can earn up to $600 with the Mode Earn App—install it today and start earning!
Source: Andre Hunter
Get the Mode Earn Phone and Earn Over $1,200 a Year!
If you want to make decent money out of your phone time, the Mode Earn Phone is made for you. Our latest smartphone—the Mode Earn Phone MEP2—is an Android 11-powered device that comes with an earn-as-you-go widget, offering you 16 stellar earning modes, including:
Music Mode

Games Mode

Surf Mode

Charge Mode

Lock Screen Mode

Save Mode

Fitness Mode

News Mode
The Mode Earn Phone also comes with a pre-installed Mode Earn App—the combo helps you earn twice as much as the standalone app! Take advantage of all our earning modes and gather more than $1,200 a year in all kinds of rewards!
Source: Mode Mobile
You can get our device for:
A one-time price of $109

A free trial, followed by a monthly subscription of $9.99, billed quarterly
If you exploit our earning modes regularly, you can recover the cost of a Mode Earn Phone within three months. We have a special offer exclusively for our subscribers—we give them the latest model of the Mode Earn Phone every 18 months!
Tips To Earn Even More With Mode Mobile Products
If you want to earn more with the Mode Earn App or the Mode Earn Phone, you can:
Install our app or buy or subscribe to a Mode Earn Phone and start making supplemental income FAST!
Featured image source: Monito - Money Transfer Comparison
Get Free Gift Cards In Minutes