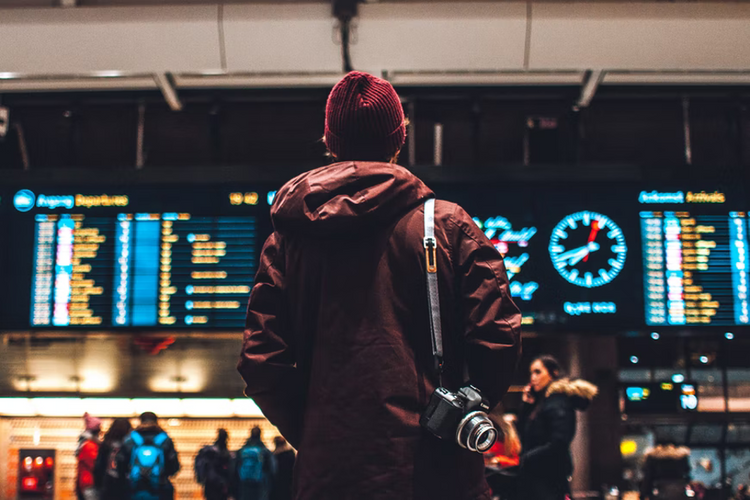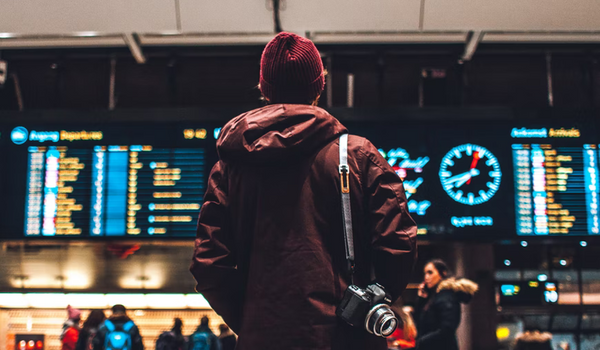 All About the International Prepaid Mastercard
International Prepaid Mastercard
—Where and How To Use It
It's not always easy to be a conscious shopper abroad, is it? With an international prepaid Mastercard, you'll be able to take care of your finances wherever the road takes you. You'll also feel much safer than dragging around wads of cash.
So, how does the card work? In this article, we'll show you where and how to use your Mastercard Prepaid Travel Card. Not only that—we'll explain how to save more money for your trip by getting the card for free with the help of Mode Mobile!
TODAY get a FREE stock and $15!💰
Get 1 FREE stock worth up to $225 + a $15 Mode MasterCard after you sign up for Robinhood and fund your account with at least $1!
What Is an
International Prepaid Mastercard
?
The prepaid Mastercard for international travel is a more practical alternative to cash and traveler's checks. With an international prepaid Mastercard, you don't have to worry about spending more than you planned since the rates are locked in before you even set off. In addition, you can access your balance and transaction history from anywhere in the world to ensure you stay on budget.
How Does a
Mastercard Travel Prepaid Card
Work?
A Mastercard Travel Prepaid Card functions the same as a regular prepaid card. The only difference is that you're loading it with foreign money. Mastercard lets you choose from over 150 different currencies worldwide. To better plan your budget, you can also check the exchange rate for each country with Mastercard's Currency Conversion Calculator.
One major perk of using an international prepaid Mastercard is that it isn't tied to your bank account. As a result, you don't have to have a good credit rating to apply for a card.
You can use the card anywhere prepaid Mastercard Debit Cards are accepted, including:
Hotels 

Restaurants

Shops and markets

Entertainment venues

ATMs
Do
Mastercard Prepaid Cards
Need To Be Activated and Registered?
International prepaid Mastercards need to be activated before use, but, luckily, the process is straightforward. All you have to do is call the phone number written on the back of the card and put down a request. The same steps apply to the registration.
Why do you need to register a Mastercard prepaid card, though? If you don't complete the process, you won't be able to reload the card or get a replacement in case it gets lost or stolen. Mastercard's Zero Liability Protection policy doesn't apply to unregistered cards.
What To Do if You Suspect Fraud
If you've noticed an unauthorized transaction on your account, the Zero Liability promise will protect your interests. Contact the Mastercard Assistance Center at 1-636-722-7111 for calls outside the U.S. and report suspicious behavior. You may also need to reach out to the financial institution that issued the card. Their contact information should be listed on the back of the card.
Zero Liability Protection applies to all types of transactions, from in-store and online purchases to ATM withdrawals. Note that certain Mastercard payment cards are exempt from the policy, e.g., unregistered and commercial cards.
Mode Earn App—Your Chance To Make Easy Money
Do you find reward apps unreliable due to the restrictions and inconsistent earning? Mode Mobile can offer more. Our system lets you make money by combining various reward-based activities that are simple and enjoyable.
With the Mode Earn App, you can earn up to $600 a year by:
Locking your phone

Charging your device

Browsing the web

Reading the news

Checking the weather

Watching short videos

Listening to music

Playing video games
Source: Mode Mobile
The way it works is that you collect points for each activity you perform and then turn them into prepaid cards with different values and gift cards from numerous merchants, such as:
eBay

Coinbase

Target

TJ Maxx

Best Buy

Starbucks
You can also get other amazing redemption items, including stocks, gaming tokens, physical products, cryptocurrency, and real cash. You'll be able to earn extra points by completing booster activities and taking advantage of exclusive offers and timed deals.
Our app has earned a stellar 4.4-star rating from over 2.6 million users and is currently being used in over 185 countries around the globe. See for yourself—get the Mode Earn App from Google Play and improve your financial situation with a consistent supplemental income.
Can You Use an ATM With a
Prepaid Travel Mastercard
?
Yes, you can use your international Mastercard prepaid cards to withdraw cash from an ATM. You'll need a Personal Identification Number (PIN) to complete the transaction, much like with a regular Mastercard credit card.
In case you've forgotten your PIN, contact the financial institution that issued the prepaid card— you'll find their contact information on the back of the card and on your billing statement.
Which ATMs Accept
Mastercard Prepaid Cards
?
Don't worry about finding an ATM in a foreign city—you can use Mastercard's locator site. The feature enables users to search hundreds of financial institutions worldwide. Follow these steps to locate a cash machine near you:
Go to the

Mastercard ATM locator

web page

Enter your current location

—

it can be a city or a ZIP code, but it's best to be as specific as possible and provide a street address

Click on

Search

to open a list of all nearby ATMs

—

Depending on where you are, the website might also provide a map with driving directions
Keep in mind that if the website doesn't show an ATM in your surroundings, it doesn't necessarily mean there are no Mastercard cash machines in your area. Instead, it could be because the card company hasn't received any info from the affiliated financial institution yet. You should try contacting the bank or credit union, in that case, and they'll provide a list of locations.
Note that there may be additional fees for withdrawing cash from an ATM. The cost isn't determined by Mastercard but by the financial institution in question.
Source: Eduardo Soares
Where To Get a Prepaid Mastercard
Prepaid Mastercards are issued by bank branches, credit unions, and retail outlets. You can get them both in person or online. In some cases, you have the option to customize the design of the card. For example, you can incorporate a personal note or choose a specific pattern.
When you apply for a prepaid Mastercard, you'll most likely have to provide the following personal information:
Given name

Current postal address

Active email address

Year of birth

Social Security number (SSN)
After paying an initial charge to activate and register the card, you'll be able to load and use it at will.
How To Get a Free Mastercard Prepaid Card
Getting a free prepaid travel Mastercard is a great opportunity to save some money for your trip. Check out the table below to find out how to get a free card:
| | |
| --- | --- |
| Method | Description |
| Giveaways | Mastercard organizes annual sweepstakes where you can get a free $300 digital prepaid Mastercard, among other prizes. The catch is that you have to be a legal resident within the 50 U.S. states and above the age of majority in your state |
| Reward-based apps | With reward-based apps, you collect redeemable points by completing online surveys, watching ads, and doing similar activities. In return, you can claim all sorts of prizes, such as prepaid cards and gift cards that can be redeemed both in-store and online  |
If you're looking to score free gift cards, prepaid cards, and other amazing items, Mode Mobile offers a tried and true method. Our company enables budget-conscious consumers to earn supplemental income by using our free reward-based platform—the Mode Earn App.
You won't have to sacrifice your free time to collect redeemable points since we provide a wide range of super-easy earning opportunities, from locking your phone to charging the device.
Mode Earn Phone—Earn More With Our Cutting-Edge Device
The Mode Earn Phone was designed to help users earn twice as much with a few hours of active use. Combined with the Mode Earn App and the "earn-as-you-go" widget, our revolutionary mobile device lets you earn up to $1,200 per year. The widget allows you to engage in 16 different earning modes, including:
Surf Mode

Music Mode

News Mode

Charge Mode

Lock Screen Mode
Source: Mode Mobile
Besides being instrumental in boosting your profits, the Mode Earn Phone is also a cutting-edge device. The Android-powered phone is compatible with the largest GSM carriers in the world, including T-Mobile, Mint, and AT&T, and comes with excellent specs.
Check out our latest model's—Mode Earn Phone MEP2—features:
Features

Mobile Earn Phone MEP2 Details

Processor

4 GB ram

Octa-core Cortex-A55

Hardware

128 GB storage

4000 mAh battery

USB Type-C fast charging

Fingerprint and face ID

Camera and screen

5 MP selfie camera

Triple back camera (13 MP+2 MP+2 MP with AF)

6.52-inch HD screen

Memory

Internal memory of 64GB

64GB micro SD card slot
Order a Mode Earn Phone Today
If you're interested in getting a Mode Earn Phone, you have two options:
Start a free trial

—Once the trial period is over, you'll pay a $9.99 monthly subscription (billed quarterly)

Make a one-time purchase

—You can get your device today for $109 if you're not keen on subscriptions
We provide a 12-month warranty for the device and a 6-month warranty for the battery. As long as you maintain your subscription, you will get a brand new phone with the latest upgrades every 18 months.
The Mode Earn Phone is the only device that pays for itself. You'll be able to pay off the data plan and purchase fee within a couple of months. The best part is that it takes only four hours of active use per day to reach that goal!
Featured image source: Erik Odiin
Get Free Gift Cards In Minutes