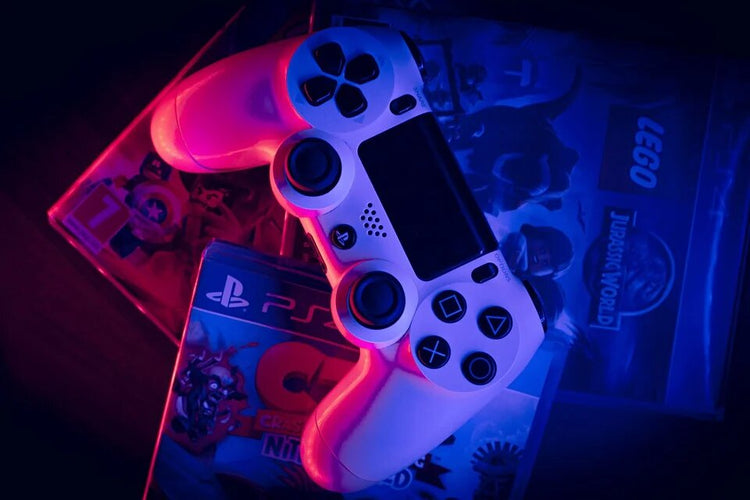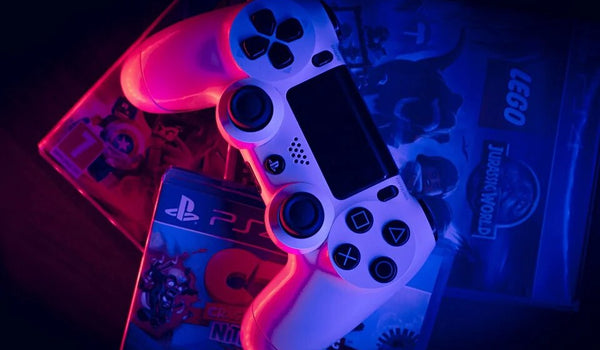 Fortnite Gift Card—PS4 Redemption Guide
How To Use Fortnite Gift Cards—PS4 Edition
If you ever played Fortnite, you know that some premium items are only available if you pay for them. The Fortnite gift cards PS4 players use can help them get hold of rare pickaxes, back bling, skins, and V-Bucks for free or at a significant discount. 
This article will explain how to redeem gift cards for this game on your PlayStation 4 and help you discover all available types of Fortnite reward cards you can turn into V-Bucks and free items. 
We will also show you how to use Mode Mobile's products to collect rewards while performing simple everyday tasks, redeem them for free goodies (such as free gift cards!), and start earning supplemental income the easy way!
PlayStation Gift Card for Fortnite
—What Is It, and Where Can You Buy It?
Fortnite PlayStation gift cards are specifically created for purchasing items in Fortnite and grant you access to premium features and a specific amount of V-Bucks.
You can buy them from several retailers, including:
PlayStation Store

Eneba

BestBuy
How Much Do Fortnite PlayStation Gift Cards Cost?
Fortnite PlayStation cards come with different price tags, depending on how many V-Bucks you want to get and what items they should include. Here are a few examples of the options that are currently available:
| | |
| --- | --- |
| Fortnite Gift Cards for PS4 | Price |
| Fortnite Minty Legends Pack + 1,000 V-Bucks | $25.11 |
| Fortnite: The Last Laugh Bundle + 1,000 V-Bucks | $23.41 |
| Fortnite: Neo Versa Bundle + 500 V-Bucks | $56.76 |
| Fortnite: Darkfire Bundle | $45.53 |
| Fortnite: Deep Freeze Bundle + 1,000 V-Bucks | $58.51 |
Note that you can only use these gift cards on your PlayStation console—you won't be able to redeem them on other devices.
How To Redeem a
Fortnite PlayStation Card
The redemption process for the Fortnite PlayStation gift cards is simple—all you need to do is follow the prompts below:
Select

PlayStation Store

from your PS dashboard

Scroll down until you see the

Redeem Codes

button

Enter the code of the gift card you purchased and click on

Continue

Check details on the redemption page and click on

Confirm

to complete the process
How To Get a Free

 
Fortnite Gift Card for PS4
Source: Mode Mobile
If you can't find any Fortnite gift card codes or don't want to spend any of your money on a game, you can earn a free V-Bucks card with Mode Mobile! 
You will be able to earn rewards whenever you play a game on your phone, listen to music, watch videos, and do other everyday activities that involve using your smartphone. Once you collect enough reward points, you can redeem them for various goods, such as cash, game rewards, and gift cards you can use online or in different stores.
Besides playing games and enjoying your favorite music and videos, you can do many other mundane tasks that bring reward points, including:
Surfing the internet

Reading news

Checking the weather forecast

Charging your phone

Locking your phone

Taking surveys

Watching video ads

Downloading partner apps
Fortnite V-Bucks cards are on our extensive list of redemption items. You can also get rewards for other games, including Roblox, Mafia City, or Mobile Legends. 
That's not all—check out some of the companies we partnered with to help you enjoy your favorite products and services while earning supplemental income:
ESPN+

CoinSmart

Acorns

Chime

CoinList

Skillshare

Voyager

HoneyGain

The Daily Stash
We offer two products that can help you start earning while having fun:
The Mode Earn App Takes Earning Supplemental Income to the Next Level
Earning cash and rewards has never been easier with the Mode Earn App! Unlike other free gift card apps, it doesn't require you to perform lengthy, difficult tasks or meet specific criteria to be able to collect points and get free goodies. 
All you should do is download it from the Google Play Store and create an account, which only takes a few minutes. Once you install it, the app will run in the background and detect the activities that bring reward points.
Using the Mode Earn App gives you the opportunity to earn $600+ in cash, free gift cards, and many other rewards per year while enjoying personalized offers tailored to your interests! 
The app has a devoted fan base already—it has been downloaded by 30 million users and has outstanding ratings (4.4/5 stars) on Google Play.
Get Twice as Many Rewards With the Mode Earn Phone
Besides the Mode Earn App, we also developed the Mode Earn Phone—the first "earn-as-you-go" Android-based smartphone. With this device, you can get to your free Fortnite gift card faster— it comes with a pre-installed Mode Earn App and lets you collect double the rewards! 
You can activate as much as 16 different earning modes on the device, such as:
Task Mode

Fitness Mode

Crypto Mode

Share Mode

Cash Mode

Data Mode

Finance Mode

Save Mode

Watch Mode

Game Mode

Weather Mode
Once you subscribe to or buy the Mode Earn Phone, you'll get a high-quality mobile device that can cover its purchase and data plan costs in a couple of months as it can earn you up to $1,200+ per year. 
There are two available payment options:
Exploring the phone during a free trial

—all you need to pay is the shipping fee and, after the free trial ends, $9.99 per month (billed quarterly)

Making a one-time payment of $109
Along with the phone, you get a fully unlocked 12-month warranty for the device and a 6-month warranty for its battery. The Mode Earn Phone is also compatible with some of the most prominent providers nationwide, such as AT&T, T-Mobile, Mint Mobile, Straight Talk, and many more. The best part is that you can use it as a regular smartphone since it has everything you need in a cell phone nowadays!
Don't miss this offer as it can bring you more benefits, such as:
A brand new model of the phone every 12 months

Extra cash for every friend of yours who subscribes to the Mode Earn Phone through our Referral program
Can You Use a PlayStation Store Gift Card for Fortnite
?
General PlayStation Store gift cards are not the same as Fortnite PlayStation cards. With them, you can purchase any of the PlayStation products—including games and media content—while the game-specific gifts can be used for V-Bucks and Fortnite items only.
These gift cards are available at many retailers, including:
PlayStation Store

Eneba

Dundle

Amazon

BestBuy
You can find them in $10, $25, $50, or $100 denominations and use them without entering your bank or credit card details on the PlayStation network. There are no extra fees and no expiration dates—you can treat yourself to something special whenever you choose. 
How To Use a PlayStation Gift Card in Fortnite
Source: Victoria_Borodinova
To redeem your PS gift card, you need to have a Sony Entertainment Network account. Once you log in to it, you need to transfer the funds from the card to your account balance—like so:
Select

PlayStation Store

on your PS4 home screen

Go to the bottom of the menu and click on

Redeem Codes

Enter the gift card code you have received

Select

Continue

in the dialogue box

Click

Confirm

to accept the terms and services and then tap on

Continue

to complete the redemption process
To purchase V-Bucks, you should load Fortnite on your console and click on the V-Bucks tab. Select the amount of V-Bucks you want to buy and click on Purchase. This action will open a confirmation page in PlayStation Store, and all you need to do to finalize the transaction is click on the Confirm Purchase button.
What Are Fortnite V-Bucks Cards, and Where Can You Get Them?
Since Fortnite features a digital currency that allows players to buy various items in-game, Epic Games created digital debit cards that can be used for purchasing V-Bucks. You can redeem Fortnite V-Bucks cards on various devices, including:
You can get a V-Bucks card in digital format or as a physical card. The four available prices are shown in the table below:
| | |
| --- | --- |
| V-Bucks | Price |
| 1,000  | $7.99 |
| 2,800  | $19.99 |
| 5,000  | $31.99 |
| 13,500  | $79.99 |
How To Redeem a V-Bucks Card on PS4
To use a V-Bucks card on PlayStation 4, you must link your Epic Games account to your console account. The redemption process goes as follows:
Go to

the Epic Games

website 

Click on

Sign In

and select the

Sign In With PlayStation Network

option

Pick

Get Started

Type in the PIN code from your V-Bucks card and click on

Next

Choose PlayStation as the device you play Fortnite on and click on

Next

Check the details and select

Confirm 
After you confirm the details, you will be redirected to a page with a new PlayStation code. You can then start your console and go to the PlayStation Store, find the Redeem Code option, and enter the code in the designated field.
Can You Use a Visa Gift Card To Buy V-Bucks on PlayStation 4?
Source: Victoria_Borodinova
Yes, you can. To do it, you need to choose the Visa gift card as the preferred payment method via your console by doing the following:
Go to

PlayStation Store

Scroll to the bottom of the side menu and select

Payment Methods

Enter all the required information—name, address, place of residence, credit card information
You can also set this card as your payment method using any web browser by following the instructions below:
Sign in to

PlayStation Store

Select

Online ID

Go to the

Payment Management

section

Click on

Add Payment Method

Enter all the required information
More Guides That Will Help You Get Your Cash Back
Looking for more ways to get cashback? Check out the guides we have on gift cards from Amazon, Fortnite, Roblox, and others:
Featured image source: Evilowl
Get Free Gift Cards In Minutes