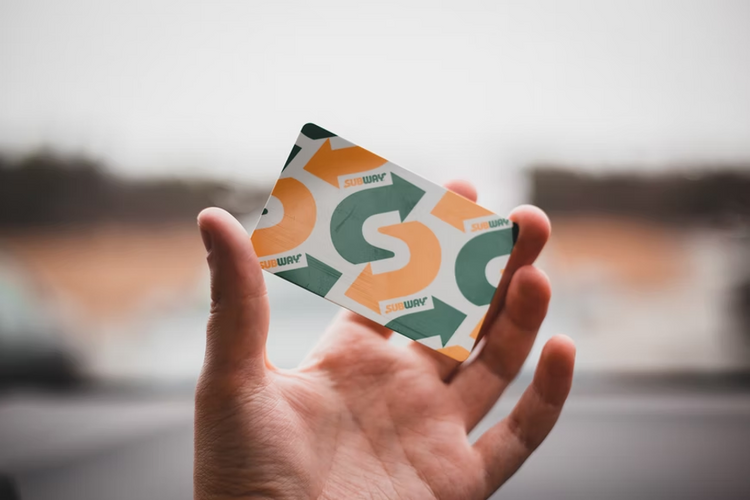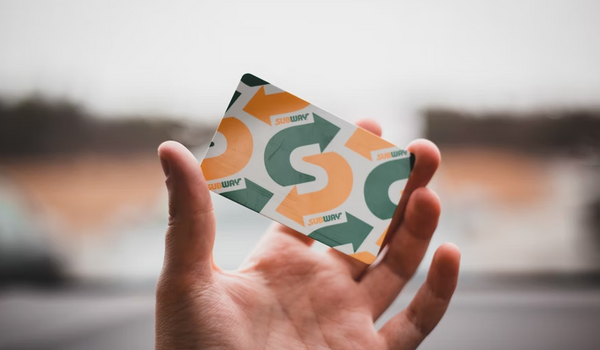 How To Get Free Subway Gift Card Codes
Eat Like a King With
Free Subway Gift Card Codes
Is there a way to get free grub from Sub? The legendary fast food joint has an impressive selection of mouthwatering yet pricey sandwiches. If you'd like to have a go at their infamous 12-inch hoagie without squandering $10, there's a thrifty method of doing so.
In this article, we'll show you how to get free Subway gift card codes. We'll point you to the right websites and warn you about potential pitfalls, i.e., internet scams. Furthermore, we'll explain how to earn gift cards from the most popular restaurants and retailers nationwide using Mode Mobile's revolutionary reward-based system!
What Is a Subway Gift Card Code?
Subway gift cards are prepaid cards that can be redeemed at any Subway location nationwide, as well as the participating restaurants in the U.S. and Canada. Besides paying on the spot, you can also use them to place online orders via the company website or the Subway® App.
The cards are available in plastic and digital (i.e., code) formats, both of which can be reloaded through the Subway app or website. You can choose to load the card with any amount between $5 and $500.
Besides the purchase fee, there are no additional costs for owning a Subway card. There's also no expiration date unless specified otherwise. For example, the restaurant sometimes issues limited-edition gift cards as part of their promotional offers, which tend to have a "shelf life."
Typically, you can buy plastic Subway cards at any location in the U.S. or Canada. Digital cards, or gift card codes, are sold online on the restaurant's website (bulk orders included). 
Customers with visual impairment can order special Subway cards with Braille text by calling 1-877-697-8222.
How To Get Free Subway Gift Card Codes
Getting a Subway gift card for free is a tad trickier, but new online sources pop up every day. For example, you can look for giveaways and sweepstakes on social media by using hashtags like #freesubwaygiftcardcodes, #freesubwaygiftcards, #subwaygiftcardfree, #subwaygiveaway, etc.
Seeing as Subway is a popular fast-food franchise, there are also special platforms where you can hunt for freebies, including:
Get-Paid-To websites

Survey websites

Gift card code generators
Get-Paid-To Websites
Get-Paid-To (GPT) websites are a popular resource for budget-conscious shoppers. By using a GPT platform, you're paid to complete short online tasks in return for points, which can later be redeemed for gift cards or even cash.
Each website comes with different earning opportunities, but you'll most likely complete surveys, take paid offers, watch videos, and do similar activities. In addition to the standard methods, some platforms have special offers that let you win bonus points or extra cash.
When it comes to choosing GPT websites, you should pay attention to the following:
Rewards list

—Before you subscribe to a platform, make sure it offers

free Subway gift cards

(or cash so you can buy it yourself)

Payout threshold

—If the payment threshold is too high (e.g., $100), it can take you a long time to get a prize

Earning tasks

—Most websites limit users to one or two activities a week or day
If you'd like to earn free Subway gift card codes by using GPT websites, check out the table below for the best ones:
GPT Website

You Get Rewarded For

Additional Details

InboxDollars

Downloading apps

Watching videos

Participating in free offers

Taking surveys (surveys are tailored to your demographic profile)

PrizeRebel

Signing up for paid or free offers 

Watching short videos 

Completing surveys

Cash via PayPal transfer, Dwolla payment, or a digital Visa gift card

Up to 30% referral commission

InstaGC

Online browsing

Product trials

Watching video content

Taking surveys

10% referral commission

$1 minimum payout

GrabPoints

Taking part in offers 

Watching video content

Downloading free and paid apps

Taking short surveys

Nine different options for cashing out

Low withdrawal threshold
Survey Websites
Survey websites function the same way as GPT websites, except taking surveys is the only available earning method. Some pages also host free contests and bonus programs, as well as hand out referral tips, but that varies from platform to platform.
If you like sharing your opinion on various topics, you can try scoring free Subway gift cards by answering online questionnaires. Keep in mind that some survey websites have strict participation requirements, so your earning rates might be slower. For example, you have to fit a particular demographic profile, which limits the number of surveys you can complete.
While survey websites provide fewer daily earning opportunities than GPT platforms, you still have a chance at getting a Subway gift card for free. In addition, you're also sharing important feedback with major companies nationwide and even the government.
Kashkick
Get cash back from Kashkick when you read emails, complete surveys, take quizzes, refer your friend, and subscribe to special promotions!
Check out the table below for accessible survey websites that offer free Subway gift card codes:
Survey Website

Overview

Branded Survey

Up to $3 per survey

Average survey length of 15 min

Payout via bank transfer, PayPal, and gift cards

Available gift card codes from popular brands, including Subway

Open to users in the U.S., UK, and Canada

Survey Junkie

eGift cards from top brands, including Amazon, Target, and Walmart

Minimum payout threshold of $10 (aka 1,000 points)

Average earning between $1 and $3 per survey

Tellwut

$15 worth of a free Subway gift card for 6,250 points

Up to $5 per survey

Low minimum payout threshold of $10

Up to a $0.05 tip for creating a survey

$0.75 sign-up bonus
Free Subway Gift Card Generators
Both GPT and survey websites require you to work your way to a free gift card by completing an earning activity. With a so-called "free Subway gift card generator," all you have to do is click on the link and claim your reward. The pages often contain the phrase "no participation or surveys required."
While this sounds like easy money, you should know that free gift card generators are a well-known internet scam. The websites are designed to collect your personal data and resell it online. How do they get you? After you click on the link, you are prompted to complete a short, seemingly random online task, such as:
Filling out a form

Taking a short survey

Subscribing to a paid service by SMS

Installing third-party adware software
The website then gathers your information, such as your phone number and email address, and forwards it to a partnering company. Any "code" you receive after completing the task is either invalid or a random series of numbers.
Source: Ola Mishchenko
Reward-Based Apps—A Safe and Easy Way To Earn Free Gift Cards
Reward-based apps are similar to GPT websites. Once you install one, you start collecting redeemable points by completing various phone-based tasks. The earning activities include watching ads, participating in free offers, scanning barcodes, or playing mobile games. After you collect an appropriate amount of points, you can redeem them for free gift cards or even cash.
Subscribing to any type of reward-based platform can be a swing and a miss. You should consider the type of tasks you'll need to complete to earn the coveted free Subway gift card, as well as the speed at which you'll get it. If you're not careful, you'll be stuck filling out tedious surveys and watching ads for chump change.
Mode Mobile offers a profitable and secure way of earning free gift cards and other incredible prizes. The company rewards users for completing a wide range of fun and easy phone-based activities, including:
Listening to music

Shopping

Playing your favorite games

Checking the weather

Surfing the internet

Reading the news

Charging your phone

Locking and unlocking your phone

Watching short videos

Answering quizzes

Tracking fitness goals via phone
You'll be able to earn hundreds of dollars without feeling pressured since Mode Mobile's monetization system is tailored to your routine and preferences. Download the Mode Earn App or get the Mode Earn Phone and increase your savings with a steady supplemental income by casually using your phone.
Source: Mode Mobile
Install the Mode Earn App and Collect Free Gift Cards Effortlessly
The Mode Earn App is a free, reward-based app that can help you earn up to $600 a year in supplemental income. You can download it from Google Play and start making money by doing various earning tasks. The app monitors your day-to-day activities and awards you an appropriate amount of redeemable points for completing each.
Once you accumulate a certain amount of points, you can exchange them for gift cards from the biggest retailers, including Walmart, eBay, Target, Sephora, Starbucks, Amazon, TJ Maxx, and many more. You can also go for other amazing prizes, such as:
Actual money via direct

PayPal

cashout

 Game cards and tokens, including:

PUBG gift cards

Free Fire diamonds

Cryptocurrency

In-demand stocks

Electronics and gadgets

Shopping discounts
The Mode Earn App has earned a 4.4-star rating with more than 2.6 stellar reviews and over 30 million downloads worldwide. If you become part of that community, you can expect consistent earning rates, various partner offers tailored to your interests, diverse earning opportunities, and above all—a secure, hack-free environment. Install the Mode Earn App today and make the most of your phone time!
Get the Mode Earn Phone and Double Your Supplemental Income
If you get a Mode Earn Phone, you can earn twice as much for doing the same phone-based tasks. Thanks to its unique technology, the Android-based smartphone can help you earn more than $1,200 a year. The device comes with a pre-installed Mode Earn App and an earn-as-you-go widget that grants easy access to 16 different earning modes, including:
Music Mode

Games Mode

Fitness Mode

Weather Mode

Task Mode

Cash Mode

News Mode

Share Mode
Besides boosting your income, the device comes with next-gen specifications. The Mode Earn Phone is equipped with an Octa-Core processor that supports multitasking, ample local and external storage space, and a powerful 4000 mAh battery that has a separate warranty. You also get to choose your operator since the smartphone is compatible with all major GSM carriers.
Source: Mode Mobile
You can get a Mode Earn Phone for:
One-time price of $109

Monthly subscription fee of $9.99—billed quarterly (you'll get a month of free trial with this option)
If you choose to continue the subscription, Mode Mobile will send you an upgraded Mode Earn Phone every 18 months.
The device's custom earning technology enables you to earn back your initial investment in the phone within two to three months—buy or subscribe to the Mode Earn Phone today!
Feature image source: Eric Mclean
Get Free Gift Cards In Minutes