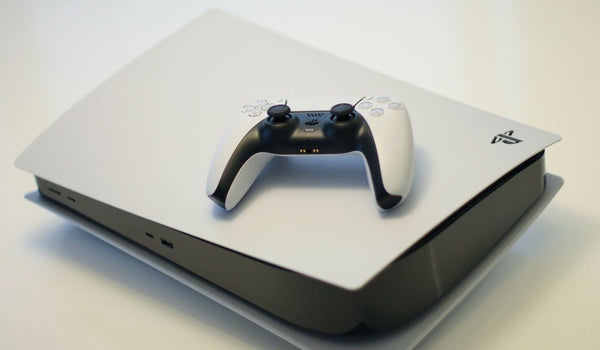 PlayStation Gift Card—Redeem It in a Few Easy Steps
PlayStation Gift Card—Redeem It in a Flash
PlayStation gift cards can be used to make purchases at the PlayStation store. Using the funds on your gift card, you can buy available games and add-ons, as well as pay for subscriptions. It's the go-to present for gamers that never fails to make the recipient happy.
Whether you bought one for yourself or received it as a gift, redeeming the PlayStation gift card won't take more than a few minutes. Along with explaining how you can redeem your PlayStation gift card, we will also explore whether you can exchange your card for cash.
You will also learn about Mode Mobile and the company's products that make it possible for you to earn free gift cards by using your phone. It is especially beneficial for gamers who want to monetize their hobby and earn free gift cards while doing so.
Types of PlayStation Gift Cards
PlayStation provides different types of gift cards, depending on the service you want to take advantage of. While one of these can be used interchangeably, others can't—it's important to recognize which one you have and what you can use it for. The table below highlights each type along with its purpose:
| | |
| --- | --- |
| Type of Gift Card | Description |
| PlayStation Store gift card | It can be used to purchase games, add-ons, in-game credit, season passes, and more at the PS store. It can also be used to pay for PlayStation Plus if you already have a debit/ credit card added to your account as a payment method |
| PlayStation Plus gift card | The PS Plus gift card can be used to pay the monthly subscription for PlayStation Plus (a subscription-based service that allows you to play multiplayer games). It cannot be used on the PlayStation Store |
Note that PlayStation used to offer a PlayStation Now subscription service, along with service-specific gift cards. Sony has recently pulled these gift cards since PlayStation Now is merged with PlayStation Plus as of June 2022.
The gift cards for all services are further divided into two types:
Digital gift card—

It is delivered instantly via email, along with the gift card details

Physical gift card—

The delivery typically takes between 1–7 days but can take even longer, depending on your location. The 12-digit gift card code is hidden beneath a foil on the back of the card
How To Redeem a PlayStation Gift Card
Source: JESHOOTS.COM
Here are the detailed steps you need to follow to redeem your PlayStation gift card:
Open the PlayStation store

Scroll to the bottom of the left menu 

Select

Redeem Codes

Enter your 12-digit card number

Follow the prompts
The amount on your gift card will be added to your PlayStation wallet. If you need to make a purchase on the PlayStation store, you can use these funds to do so.
You can also redeem your gift card via your PC by visiting the PlayStation Store website—like so:
Sign in

to your PlayStation account on your computer

Click on your profile icon at the top right corner

Choose the

Redeem Codes

option from the drop-down menu

Enter your 12-digit code and follow the prompts
If you're wondering how to redeem a PlayStation Plus gift card, know that the steps involved are roughly the same. The only difference is that you won't be adding the funds to your PlayStation wallet but using them to pay a monthly subscription for the PlayStation Plus service.
Earn by Playing Games With Mode Mobile
Source: Mode Mobile
Fortunately for you, Mode Mobile provides the most reliable way to earn PlayStation and many other gift cards. You can complete your favorite everyday activities and earn a variety of attractive rewards by using the company's complementary products—the Mode Earn App and the Mode Earn Phone.
How Does the Mode Earn App Work?
Once you download the Mode Earn App, the platform will award you points for playing your favorite games and using your phone for other activities. You can exchange your points for gift cards or in-game items for some of the most popular games, including:
PUBG
Free Fire
Mobile Legends
These aren't the only redemption options—you can exchange your points for other gift cards (from Amazon, Walmart, eBay, Target, Starbucks, and more), crypto, stocks, or cash via PayPal. Here are some of the other tasks you can complete to earn points:
Listening to music

Reading the news

Surfing the internet

Checking the weather

Locking your phone
The Mode Earn App also frequently introduces booster deals, which can further increase your earnings. The current limited-time deals include:
Watching ads

Installing and playing games on your phone

Taking surveys
You can earn up to $600 a year by using the app alone. Download it for free from Google Play and start earning!
How To Redeem PlayStation Gift Cards for Cash
If you don't need your PlayStation gift card anymore, you can list it for sale and try to get the remaining balance in cash. 
Some platforms that allow users to buy and sell used gift cards include:
Raise

Gameflip

ClipKard 

CardCash
Keep in mind that you will rarely get the full value of the card and will have to sell it at a discount.
How To Check Your PlayStation Gift Card's Balance
Have you decided to cash out your gift card or are worried that you won't be able to cover the purchase in the PlayStation store? You can avoid potentially embarrassing situations by keeping tabs on your card's balance.
The method of checking how much balance you have on your PlayStation gift card is slightly unconventional as, unlike most other companies, PlayStation doesn't have a dedicated section for checking gift cards' balance. All you need to do is follow the same steps as you would when redeeming the gift card. Upon entering the card's number, a confirmation message containing details of your current gift card balance will pop up. 
If you would like to proceed and add the funds to your PlayStation wallet, follow the prompts—otherwise, click on Cancel.
You can also check the balance by contacting the customer support service at 1-800-345-7669 or visiting a PlayStation store in person and asking the cashier to swipe your card.
How To Get PS4 Gift Cards for Free
If you are a fan of video games, getting a free PS4 gift card would certainly be a dream come true. Fortunately, this option is not so far-fetched, as long as you know where to find free gift card deals. Here are some legitimate methods you can try to get a free PS4 gift card:
Visit survey websites

—You get questionnaires to fill out, and for answering each set of questions, you earn points. While such platforms generally are authentic, they come with several pain points. The questions can be aimed at a specific demographic group, and you may not fit the requested profile. Another drawback is the low payout. You will have to toil for hours before you earn a decent amount of points

Participate in social media giveaways

—Veteran

gaming blogs are typically the first to know about any PS gift card promotions. You should bookmark their websites and be on the lookout so you're not left out when an opportunity to participate presents itself. The chances of you winning a giveaway are low and can get only lower as more people sign up for it, but it is still a credible option, and you never know when your luck might shine

Sign up for reward-based apps

—These apps require you to complete various tasks, such as watching ads or playing specific games, to earn points which you can exchange for gift cards. You should be careful when choosing a reward-based platform, though, as not all of them are profitable or reliable enough. You should also make sure that the redemption items include your desired gift card or at least offers cash or prepaid gift cards, such as

Visa and Mastercard gift cards

, which you can use to purchase other items
Earn $1,200+ a Year With the Mode Earn Phone
Source: Mode Mobile
The Mode Earn Phone enables you to double the amount that you would earn by using the Mode Earn App on any other device. 
The device comes with a pre-installed Mode Earn App and an earn-as-you-go widget containing 16 different earning modes you can take advantage of—here are some:
Games Mode

Music Mode

Lock Screen Mode

Weather Mode

News Mode

Surf Mode

Fitness Mode
By using the Mode Earn Phone regularly, you can earn over $1,200 a year in cash and in-kind rewards.
Mode Mobile offers you two methods of paying for the phone:
Make a one-time payment of $109

Start a free trial and pay a $9.99 monthly subscription (billed quarterly)
You will earn back your investment in the device within three months of regular use. 
Mode Earn Phone Specs
You can put away your old device as the Mode Earn Phone doesn't fall behind when it comes to specs either. Here is a list of features that the latest model—Mode Earn Phone MEP2—holds:
Android 11

Octa-Core ARM Cortex

4,000-mAh battery with overvoltage protection

1.6Ghz chip

6.52'' HD screen

128GB storage

5MP selfie camera

Dual SIM slots

Loudspeaker

Fingerprint and Face ID unlock

Triple-lens camera—13MP + 2MP + 2MP

IEEE 802.11 b/g/n WIFI Hotspot and BT4.2 Bluetooth connectivity

3.5mm headphone jack

Various sensors, including gravity and light sensor, proximity, gyroscope, and compass
The device is compatible with all major carriers, including AT&T, T-Mobile, and Mint. Buy or subscribe to the Mode Earn Phone and start earning significant supplemental income while enjoying the phone's superb performance.
Featured image source: Kerde Serevin
Get Free Gift Cards In Minutes