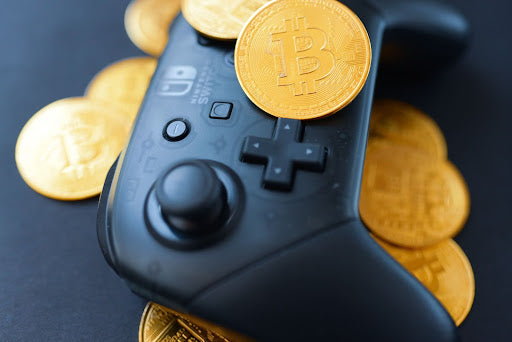 The Top 5 Play-To-Earn Crypto Games
Discover the Best
Play-To-Earn Crypto Games
One of the methods of earning money while playing games that's gaining more and more popularity each day is playing play-to-earn crypto games.
If you're new to the concept, you might be wondering what the best money-earning crypto games are, how the earning process works, and if there is a difference between crypto and NFT games. Fret not—in this article, we will tell you all you need to know about play-to-earn crypto games. You will also discover an alternative method of earning cryptocurrency by playing mobile games and doing other fun and easy activities on your phone!
Earn Crypto Playing Games
—How Does It Work?
Play-to-earn games, much like traditional ones, reward players for completing tasks, battling other players, and progressing through various game levels. The main difference is that rewards from play-to-earn games have real-life value.
These rewards come in the form of in-game assets like crypto tokens or virtual land, as well as skins, weapons, and other NFTs (non-fungible tokens). The decentralized nature of these games enables players to buy, transfer and sell these in-game assets outside of the game's virtual world in exchange for real money.
Source: Sean Do
There are two types of crypto games, depending on the cryptocurrency being used—as shown in the table below:
Type of Crypto Game

Explanation

Native cryptocurrency games

The currency used in these games is specifically designed for the game in question. One of the best examples of a native cryptocurrency game is the world's most famous blockchain game, Axie Infinity. It has not one but two native cryptocurrencies, SLP and AXS

Existing cryptocurrency games

These games use existing cryptocurrencies, such as Bitcoin, Dogecoin, Ethereum, etc. Some popular games that use existing crypto are:

Coin Hunt World

Bitcoin Pop

CryptoKitties

Bitcoin Alien Run
Earn Cryptocurrency Playing Games
 

With Mode Mobile
Mode Mobile enables you to earn substantial supplemental income by doing the activities you enjoy, such as playing games on your phone. Besides playing games, you can get rewarded for:
Listening to music

Reading the news

Completing surveys

Charging the phone

Checking the weather

Browsing the web

Watching short videos

Tracking fitness goals
When you complete a reward-bringing task, you get points, which can be redeemed for hundreds of dollars worth of rewards annually. To use the company's services, install the Mode Earn App or get a Mode Earn Phone.
Source: Roy Javier
Use a Mode Earn App and

 
Make Money by Playing Games
The Mode Earn App monitors your phone use to provide a customized user experience—for example, if you're into gaming, you can get rewarded for completing game-based tasks, such as:
Playing your favorite games

Trying newly launched games

Completing in-game challenges

Reaching new levels or beating bosses
You can earn up to $600 with the Mode Earn App—it is completely free (with no hidden fees) and can be downloaded from Google Play. Millions of users use the app daily to earn cash and in-kind rewards, many of which are related to gaming, such as Fortnite V-Bucks cards, Eneba gift cards, Free Fire diamonds, and PlayStation cards. You can also get crypto, prepaid cards, gadgets, and gift cards from popular retailers (e.g., Amazon, Walmart, Starbucks, etc.).
The Mode Earn App has received 4.4 stars on Google Play from over 2.6 million users. The following are some of the reasons why the app is one of the best on the market:
Fast and smooth payouts

A safe and stress-free earning experience

Regular booster offers to increase earnings

A variety of tasks with a high earning rate
Why risk it? Install the Mode Earn App and start earning in a relaxed and safe way.
Source: Mode Mobile
Want To

 
Get Paid for Playing Games
 

Even More? Get a Mode Earn Phone
Want to earn rewards much faster? With the Mode Earn Phone, that's exactly what you can do. The Android-based smartphone is powered by the same technology as the Mode Earn App, but it enables you to earn twice as much—over $1,200—for the same activities.
The smartphone makes that possible as it comes with:
The Mode Earn App already installed

An earn-as-you-go widget with 16 different earning modes you can take advantage of, such as:

Games Mode

Cash Mode

Music Mode

Crypto Mode

Weather Mode

News Mode
The Mode Earn Phone goes beyond earning—you can use it as your primary phone. The device has a sleek design and features that enable smooth day-to-day use:
Source: Mode Mobile
Get a Mode Earn Phone With Zero Hassle
You can get a Mode Earn Phone by choosing one of the two options:
Purchase the device—make a one-time investment of $109

Subscribe to the phone—pay a monthly fee of $9.99 (billed quarterly)
If you choose the subscription option, you will get a free trial month. You will also be eligible to receive a brand new model of the phone every 18 months (when it's released).
Getting a Mode Earn Phone is a risk-free investment—most users earn back the cost of the phone within two to three months of moderate use (approximately four hours a day).
Buy or subscribe to the Mode Earn Phone and start making money the fun way!
How To Earn Money in Crypto Games
There are two main ways you can earn income through play-to-earn crypto games:
Earning in-game cryptocurrencies

—If the sole purpose of playing crypto games for you is earning income, then it's best to stick with the games that use the existing cryptocurrencies, such as Dogecoin or Bitcoin, as they're easier to exchange

Winning, breeding, or trading in-game NFTs

—Each NFT may represent an item, skin, or another collectible in the game. Depending on the game (and the collectible itself), these can be purely cosmetic or fulfill a purpose in a game
Best Play-To-Earn Crypto Games
and
Top Play-To-Earn NFT Games
Being a newbie to the play-to-earn game can make the earning process difficult. With the rising popularity of this earning model, the market is getting oversaturated with game options, making it hard for gamers to choose the best one.
We've researched the best play-to-earn crypto games and compiled a list to help you get started. Here are some of the most popular play-to-earn cryptocurrency and NFT games:
Axie Infinity

The Sandbox

Decentraland

Alien Worlds

Gods Unchained
Axie Infinity
Axie Infinity is the most popular play-to-earn crypto game on the market, inspired by Pokemon. Players purchase or collect NFTs of cute monsters called Axies that they grow, breed, trade, and pit against each other in battles. As previously mentioned, Axie Infinity uses native cryptocurrencies—AXS and SLP. As of 2022, a single AXS is valued at approximately $15.70.
Getting started with Axie Infinity is not exactly cheap—you need three Axie NFTs to start playing the game, and the cheapest available is currently sold at $6.75 a piece (the price that once was much higher, ranging from $225 to $250 a piece).
The game has a high entrance fee and requires large investments of up to several hundreds of dollars, but it can certainly pay off—Angel, a mystic Axie, was sold for 300 ETH, i.e., $1.1 million.
The Sandbox
The Sandbox is a 'blocky' metaverse where the goal is to build, craft, and survive. This blockchain-based game uses its SAND in-game tokens, and you can also buy, sell, and trade NFTs while on the platform.
The approximate value of one SAND token is $1.18. Besides the SAND tokens, the platform uses two more types of tokens to ensure a circular economy between all types of users—players, creators, curators, and land owners. The other two token types are:
LAND

—It's a digital piece of real estate in The Sandbox metaverse. Players buy it in order to populate it with games, assets, and interactive experiences. Each LAND is a unique NFT

ASSETS

—Their main purpose is to serve as creation elements in The Sandbox Game Maker
Investing in The Sandbox is considered a good idea as some of the NFTs have been sold for over $600,000.
Decentraland
Decentraland is a virtual reality platform where players design and build their own 3D worlds by buying land and growing it within the platform. You can play, explore, and interact with games and activities, as well as purchase land where you can build your environments and marketplaces.
You need an Ethereum wallet to be able to buy, collect, and use the game-specific currency called MANA. A single MANA is valued at about $0.93.
While the game itself is free, you will need to invest money to be able to enjoy specific features and eventually profit from it. One of the biggest purchases in Decentraland was when an NFT called The Moon Room was sold for 1,400,000 MANA or around $1 million at the time.
Alien Worlds
Alien Worlds is a play-to-earn game built on the WAX blockchain. It features a universe that consists of five worlds, each having 500 land plots. The goal of this sci-fi, futuristic game is to mine and find different items. Players can achieve this by capturing NFT alien species and items (Land Plots, Tools, Minions, Avatars, and Weapons) they can later use for mining and discovering said items. The official currency of the game is Trilium and goes under the symbol TLM. A single TLM coin is valued at less than one dollar.
Getting started is completely free, and every user gets a Shovel so they can start mining immediately.
Gods Unchained
In this blockchain-based game, players collect NFT cards to compete with each other. Players have to strategically outsmart their opponents by using tactics to build more powerful decks. 
Gods Unchained players have complete ownership of all in-game items, which means that they can use, sell, or trade their cards as they want.
As foreshadowed in the title, the game revolves around powerful entities called Gods. The value of a single in-game coin, also called GODS, is around $0.5.
Gods Unchained is free to play, allowing you to unlock new cards by playing the game. You can later sell said cards for currency or trade them for something else.
Play-To-Earn Crypto Games—Are They Worth the Hype?
No doubt that reading articles about someone selling an Axie Infinity NFT for millions of dollars makes you want to invest all your hard-earned money in such a game with hopes of achieving the same. If it was that easy, though, wouldn't we all be rich by now? So before running off to buy some Axies or MANA, you should take a look at some negative aspects of play-to-earn games:
They often require hefty investments

—Whether you have to pay the entrance fee or purchase an in-game NFT to start your game, the fact is that, in most cases, play-to-earn crypto games require you to make a significant initial investment

It can be super risky

—Players can get caught in the idea of earning millions of dollars and start buying more and more NFTs to enhance their chances of getting rich overnight. The problem is that only a handful of people manage to return the initial investment, let alone make a significant profit

It starts to feel like a chore

—As you find yourself devoting more and more time to the game in hopes of making a profit, the activity you once enjoyed will start feeling like a time-consuming, tedious job
If you're not willing to take on play-to-earn crypto games, that doesn't mean you can't both enjoy and monetize your favorite pastime. It only means you should shift your focus to alternative methods.
Other options include online cash games (Visa, PayPal, Apple Pay cashouts), such as bingo, poker, solitaire, etc., but keep in mind that these casino types of games are risky and can become addictive fast. Cash games are also not the best option as they are notoriously famous for low payouts.
With Mode Mobile, you can earn by playing games, but without any risks, stress, and steep investments—read on to learn how.
Featured image source: regularguy.eth
Get Free Gift Cards In Minutes