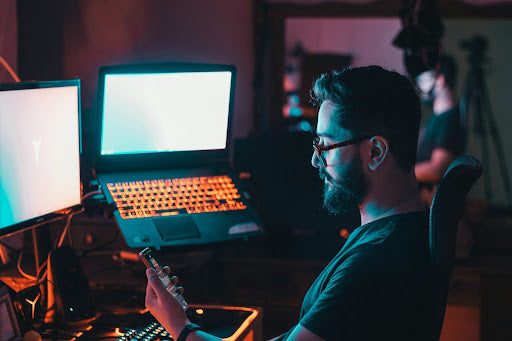 Play-To-Earn Gaming—All You Need To Know
What Is
Play-To-Earn?
Earning Model Explained
Do you spend a fair amount of time playing games on your computer or smartphone? You'll be happy to learn that there are ways to earn money this way, even if you're not a professional gamer.
Play-to-earn games have been gaining popularity ever since the first blockchain game—CryptoKitties—was launched in 2017. If you want to learn more about these games, you've come to the right place.
In this article, you'll discover all about the play-to-earn model—how it works, what the best and most profitable play-to-earn games are, and how much money you can earn this way.
We will also tell you all about another way to earn by playing games—Mode Mobile. You'll learn how this company's products help you earn money and rewards for performing fun, everyday activities on your phone.
What Is Play-To-Earn Gaming
?
Play-to-earn is an earning model that works on blockchain technology, allowing you to earn crypto and non-fungible tokens (NFTs) while playing games.
It allows players to generate a steady stream of crypto income by playing the game. The exact mechanism can differ from one game to another, but the rewards typically come from staking, farming a game's currency, or generating tradeable NFT items. While in older blockchain games the users' profit depended on chance, in play-to-earn games, players can work for their income within a game's well-defined business model.
Source: Kanchanara
How Does Play-To-Earn Work?
Much like in traditional ones, in play-to-earn games, you get rewarded for progressing through levels, competing with other players, defeating bosses, etc. The difference is that play-to-earn games reward you with items that have real-life value.
There are two main ways to earn income while playing these blockchain games:
Earning in-game cryptocurrencies

—Depending on the games you play, you can earn either native cryptocurrencies (developed specifically for the game in question, e.g., Axie Infinity's AXS) or existing cryptocurrencies (not tied to a specific game, e.g., Bitcoin, Ethereum, and Dogecoin). Coins are valued at a specific sum and can be exchanged for other cryptocurrency or real money on crypto exchanges

Earning or trading in-game NFTs

—Each NFT may represent an item, skin, or another collectible in the game. Depending on the game (and the collectible itself), these can be purely cosmetic or fulfill a purpose in the game. You can, for example, earn by renting, selling, or using them to fight with other NFTs
Other Ways To Earn Money by Playing Games
If you are a gaming enthusiast, you can explore many other options for profiting off your skills and passion. Here are some of the most common and popular ways you can start making money doing what you love:
Create a gaming-related YouTube channel or become a Twitch streamer

Become a video game developer

Set up a video game coaching business

Become a QA tester

Become a video game blogger
Note that all of the methods mentioned above are full-time careers and require a lot of time and effort. You can also try playing online cash games (PayPal, Apple Pay, Visa cashouts), such as bingo, poker, solitaire, etc., but keep in mind that these casino types of games are highly risky.
If you're looking for a more relaxed and effortless way to earn money by playing games, you should consider Mode Mobile.
Source: Mode Mobile
The company has revolutionized the earning game—it enables you to earn by doing the activities you enjoy, such as playing games on your phone. Besides playing games, you can get rewarded for:
Listening to music

Reading the news

Completing surveys

Charging the phone

Checking the weather

Browsing the web

Watching short videos

Tracking fitness goals
When you complete an eligible task, you get points, which you can redeem for hundreds of dollars worth of rewards annually. To use the company's services, download the Mode Earn App or get a Mode Earn Phone.
Play Games and Earn Money Effortlessly—Install the Mode Earn App
The Mode Earn App is free to download and available on Google Play. Once you install it, it starts monitoring your phone activity and rewarding you points whenever you complete a reward-bringing task. You'll get recommendations of other similar activities based on what you like—if you spend most of the time playing games, the app will promote other game-related tasks for earning cash, such as:
Unlocking new levels in games

Completing in-game challenges

Trying out new games
You can exchange your reward points for up to $600 in cash or other prizes—such as:
Investments (crypto and stocks)

Physical goods

Gift cards from top retailers, such as:

TJ Maxx

Game cards and items (for

 

Fortnite

, Free Fire,

 

PlayStation

, PUBG, and more)

Airtime

Donations
The Mode Earn App has a 4.4-star rating on Google Play and more than 30 million installs worldwide—join the army of satisfied users today!
Source: Google Play
What Are the
Best Play-To-Earn Games
?
Thanks to the rising popularity of play-to-earn games, the market is becoming oversaturated with options, making it hard to pick the best one. In the following table, you can find more information about some of the most popular play-to-earn games:
| | | | |
| --- | --- | --- | --- |
| Play-To-Earn Game | Description | In-Game Currency | Worth |
| Axie Infinity | This gaming metaverse is based around digital collectible pets called Axies—the NFTs that you collect, grow, breed, trade, and battle against with other players | AXS | As of 2022, a single AXS is valued at approximately $15.70 |
| Decentraland | Decentraland is a virtual reality platform where you design and build your own 3D worlds by buying land and growing it within the platform. You need an Ethereum wallet to be able to buy, collect, and use the game-specific currency | MANA | A single MANA is valued at about $0.93 |
| The Sandbox | The Sandbox is a 'blocky' metaverse where the goal is to build, craft, and survive. This blockchain-based game uses in-game tokens, and you can also buy, sell, and trade NFTs while on the platform | SAND | The approximate value of one SAND token is $1.18 |
| Alien Worlds | The goal of this sci-fi, futuristic game is to play, mine, and find different items. You can achieve this by capturing NFT alien species that you can later use for mining and discovering said items | TLM | A single TLM coin is valued at less than one dollar |
| Gods Unchained | In this blockchain-based game, you collect NFT cards to compete with other players. As foreshadowed in the title, the game revolves around powerful entities called Gods | GODS | The value of a single in-game coin is around $0.5 |
Making Money Playing Crypto Games—Are There Downsides?
Besides being slightly confusing to those who aren't well versed in crypto and NFTs, the play-to-earn model has some other negative aspects. In the table below, you can read about some of the downsides of this earning method:
| | |
| --- | --- |
| Downsides | Explanation |
| It takes the fun out of gaming | Earning while playing video games requires dedication, time, and a lot of effort, which takes all the fun out of the activity. The more you play, the quicker your favorite pastime becomes a tiring task, which can lead to losing interest in the activity altogether |
| You are often required to invest some money | While it's not always the case, most play-to-earn games require you to invest a decent amount of money to be able to play and earn. Even if a game itself is free, you'll still need to invest money in specific assets, usually in the form of NFTs. Keep in mind that these can cost hundreds of dollars (or more), and you'll usually need more than one to start a game |
| It can be risky | With large investments come big risks. Many players get caught up in the idea that earning while playing will be easy and end up spending too much money upfront. They waste a lot of time trying to get the initial investment back, but, unfortunately, the majority never succeeds |
Want More Rewards? Double Them With the Mode Earn Phone
Earning substantial side income by doing what you love sounds like a dream come true. Doubling those earnings for the same time and effort is even better, and with the Mode Earn Phone, it's possible!
The Mode Earn Phone enables you to earn over $1,200 for the same activities as the Mode Earn App—double of what you can earn with the app alone.
The Android-based smartphone comes with:
The Mode Earn App already installed

An earn-as-you-go widget with 16 different earning modes you can take advantage of, such as Games Mode, Music Mode, Surf Mode, Crypto Mode, etc.
Some of the earning modes enable you to earn points even when you're not actively using your phone, e.g., Charge Mode and Lock Screen Mode.
Source: Afif Kusuma
Premium Features at a Non-Premium Price
Even if you don't consider the earning features, the Mode Earn Phone is an ultra-modern device designed to facilitate your phone-based activities. With the latest model—the Mode Earn Phone MEP2—you can enjoy features like:
6.52-inch HD+ touchscreen

Android OS 11

Octa-Core ARM Cortex

Triple lens-back camera—13MP + 2MP + 2MP

5MP front camera

Face and fingerprint ID unlock

Multi-carrier compatibility
Source: Mode Mobile
How To Get a Mode Earn Phone
Want your own money-making machine? Mode Mobile makes it easy as it gives you two Fwithinoptions to choose from:
Purchase the device for a one-time price of $109

Subscribe to the phone for a monthly fee of $9.99 (billed quarterly) after a free trial
Keep your subscription active, and you can get an upgraded, brand-new Mode Earn Phone every 18 months (when it's released).
Getting a Mode Earn Phone is completely risk-free—most users earn back the investment within two to three months of moderate use (approximately four hours a day).
Buy or subscribe to the Mode Earn Phone and start monetizing playing games!
Featured image source: Jose Gil
Get Free Gift Cards In Minutes