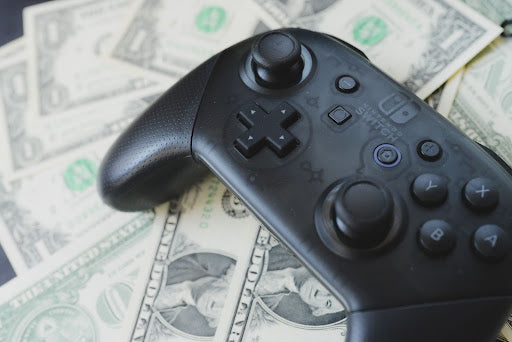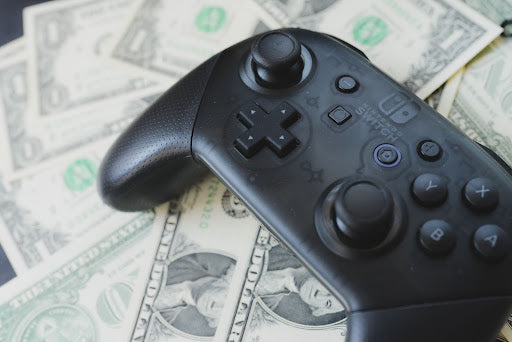 How To Make Money Playing Video Games—Explained
How To Make Money Playing Video Games
—A Detailed Guide
Monetizing your favorite pastime sounds too good to be true, but if you love playing video games, this can be a reality.
With the rise of Twitch, Discord, and similar platforms and streaming services, there's never been a better time to turn your favorite hobby into an income generator. The best part is that you don't even have to be a professional gamer to do so. If you want to jump on the money-earning train, this article is for you. We will explain how to make money playing video games and break down some of the most popular and easiest methods.
We'll also show you how to make money playing games and doing other fun activities on your phone using Mode Mobile products.
Can You Really Make Money Playing Games?
Yes, you can earn money playing games on a PC, console, and even your phone. Keep in mind that the amount of money you can make varies significantly depending on the method you choose, as well as the resources available to you and the time you have on your hands.
While you can make a living out of certain methods (such as developing or QA testing games), others might bring you nothing but petty cash.
Source: Sean Do
How To Make Money Playing Games With Mode Mobile
While there are numerous methods of earning money through gaming, most of them require serious life and career changes. Other options include making risky investments or investing too much time.
Mode Mobile takes the money-earning game to the next level. The company enables you to earn by doing what you enjoy. One such activity is gaming, and you can earn by:
Playing your favorite games

Trying new mobile games

Completing in-game challenges

Reaching new levels
You can make side income for other activities as well, such as listening to music, reading the news, browsing the web, etc.
When you complete an eligible task, you get points, which can be redeemed for hundreds to thousands of dollars worth of rewards annually. To use the company's services, download the Mode Earn App or get a Mode Earn Phone.
Source: Mode Mobile
Install the Mode Earn App and

 
Get Paid To Game
The Mode Earn App is a free reward-based app developed to help users earn by doing simple tasks on their phones. The app provides a user-customized experience—for example, if you're into gaming, you can get rewarded for completing various game-based tasks.
The app is completely free to download and use (there are no hidden charges), and you can earn up to $600 annually by using it.
Millions use the Mode Earn App daily to earn cash and in-kind rewards. The best part is that many rewards are gaming-related—you can exchange your points for:
Eneba gift cards

PUBG gift cards

Free Fire diamonds
Take a look at the table below to see what other items you can score with Mode Mobile:
Category

Redemption Items

Gift cards

Electronics

Mini-drones

Bluetooth speakers

Wireless headphones

Cash and payment cards

Investments

Others

Airtime

Donations

Discount coupons
The Mode Earn App has 4.4 stars on Google Play, and over 2.6 million user reviews attest to its quality.
Source: Google Play
Earn supplemental income in a fun and easy way—install the Mode Earn App and start monetizing gaming.
Play Games and Double the Rewards—Get a Mode Earn Phone
While you can earn a substantial supplemental income with the Mode Earn App, you can earn even more with the Mode Earn Phone. The Android smartphone enables you to earn over $1,200 for the same activities as with the app on a different device. This is possible because the phone is equipped with the pre-installed:
Mode Earn App

Earn-as-you-go widget with 16 different earning modes you can take advantage of, such as Games Mode, Music Mode, Crypto Mode, etc.
The Mode Earn Phone goes beyond earning—the device comes with superb features that enable smooth daily use and a lag-free gaming experience:
Source: Mode Mobile
To get your Mode Earn Phone, you can choose one of the two options:
Purchase the device for a one-time price of $109

Subscribe to the phone for a monthly fee of $9.99 (billed quarterly after a free trial)
Provided you maintain your subscription, you will receive a brand new model of the phone every 18 months.
Getting a Mode Earn Phone is a risk-free investment—you can earn back the cost of the phone within two to three months of moderate use.
Buy or subscribe to the Mode Earn Phone and increase your income by doing what you enjoy.
Best Ways To Make Money Playing Video Games
There are numerous opportunities to thrive in the gaming industry and earn money while you're at it. The best part is that everyone can find a way to earn by playing video games—you don't have to be a pro, and you don't even have to make it a full-time job, though that will determine how much you'll make.
Here are some of the most common and popular ways you can start making money doing what you love:
Create a gaming-related YouTube channel

Become a video game developer

Set up a video game coaching business

Become a QA tester

Start streaming on Twitch

Become a video game blogger

Start playing play-to-earn games
Create a YouTube Channel
With a net worth of $40 million and over 110 million subscribers on YouTube, PewDiePie is the most famous and successful gaming influencer. The success of the Swedish YouTuber and other famous gaming influencers makes millions of gamers want to pursue this profession.
You can make pre-recorded videos of your gameplay so others can watch you go through the game or run live streams. You can also post:
Game reviews

Gameplay and game tutorials

General gaming tips
When your subscribers or non-subscribers watch video and banner ads on your channel, you will earn a percentage of ad revenue. The more views you get, the more money you'll make. Once your channel gets more popular, you can start earning through sponsorships.
Source: Sebastian Pandelache
It's not all fun and games, though. While it might seem easy, starting a YouTube channel, especially a game-streaming one, requires having good equipment and a lot of time on your hands. You should also keep in mind that you'll have to put in a lot of time and effort to make it through in the YouTube gaming community.
Become a Video Game Developer
If you can't warm up to the idea of being on screen, you can show your interest in video games by doing something other than streaming and still earn good money. One option is becoming a video game developer. If you're a skilled gamer and would enjoy designing video games, this is the right path for you.
Game developers work with video game companies to create new games, earning an average salary of around $115,000 in the U.S.
If you're interested in the role, you should start researching job boards and look into the requirements to see if you qualify and what you can do to enhance your chances of becoming a game developer in the future.
While being a game developer is a great career for any video game enthusiast, it might not be for everyone as it requires a lot of time, effort, and commitment. If you're looking to earn some side income, explore other options instead.
Set Up a Video Game Coaching Business
With the growing interest in gaming-related jobs, more and more people are trying to learn how to play video games or advance their knowledge. That's why there's an increased demand for video game coaches.
If you enjoy teaching and playing video games, you can combine the two and set up a video game coaching business or become a game coach on platforms like Esports or Fiverr. As a coach, you'd be:
Teaching others through gameplay tutorials

Providing tips and advice

Helping players practice for tournaments
The salary varies depending on your expertise and whether you choose to set up your own business or work for someone else. The average annual salary for game coaches in the U.S. ranges from $18,000 to $83,000.
Being a video game coach is a more responsible role and might take the fun out of gaming for some. If you'd like a more relaxed money-earning experience, you should consider other ways of making income through video games.
Become a QA Tester
Being a quality assurance tester for video games is one of the most fun gaming-related jobs out there.
Games that are being developed need to be tested before getting released, and as a QA tester, it would be your job to check whether everything functions properly. The job usually consists of the following:
Playing the game

Providing feedback on the quality and the game itself

Reporting any issues or bugs you encounter
QA testers also work on new versions and updates of the existing games to help make them better and fix any bugs.
The average salary of a QA tester for video games in the U.S. is $60,000. Even though it sounds like a dream come true, keep in mind that you can't become a QA tester overnight. In most cases, you need experience and at least a bachelor's degree in Computer Science.
Start Streaming on Twitch
Source: ELLA DON
Twitch is one of the most popular gaming platforms in the world, and many gamers earn real income by streaming their gameplays there. The platform works in a similar way as YouTube—it enables users to earn by monetizing their live streams, mainly through ads and subscriptions.
Many people find earning through Twitch a fun and enjoyable experience, but there are certain downsides. One of the major disadvantages of being a Twitch streamer is that the platform takes a cut of any money you make. This is true for most platforms (YouTube takes a cut as well), but Twitch takes half of all revenues generated from subscriptions. While this might not be a problem for already successful streamers, if you're just starting out, it may not be worth your time.
Become a Video Game Journalist or Blogger
Another fun way to explore your gaming interests and make money along the way is to become a video game journalist or blogger. As a video game journalist, some of your responsibilities would be to:
Report on new video game releases

Play games

Write reviews

Go to and report on gaming tournaments
You can apply for a job at a video game publishing company or create a blog and work as a freelancer. If you opt for the former, you'd probably need some experience and at least a bachelor's degree in Journalism.
Start Playing Play-To-Earn Games
Most of the methods mentioned above are full-time jobs. If you're looking to earn some side cash in your spare time, playing money-earning games is a much better option.
Play-to-earn is an earning model that works on blockchain technology. As the name suggests, you can earn money (crypto and NFTs) solely by playing games.
The way these games work is that players win, buy, or earn potentially valuable items, such as cards, skins, and even crypto and non-fungible tokens. Unlike in traditional games (that work on a similar principle), assets in play-to-earn games have real-world value as well.
Source: regularguy.eth
If you want to get real money out of it, all you have to do is transfer your in-game items to the real world and sell them for real money or the cryptocurrency of your choice.
While there are some play-to-earn games that are promoted as free, you usually have to make upfront investments to be able to start playing and making money. Another downside is that not all of the games provide lucrative earning rates, and it can prove difficult to earn back your investment.
If you're looking for a risk-free and easy way to earn doing what you love, you can't go wrong with Mode Mobile.
Featured image source: regularguy.eth
Get Free Gift Cards In Minutes