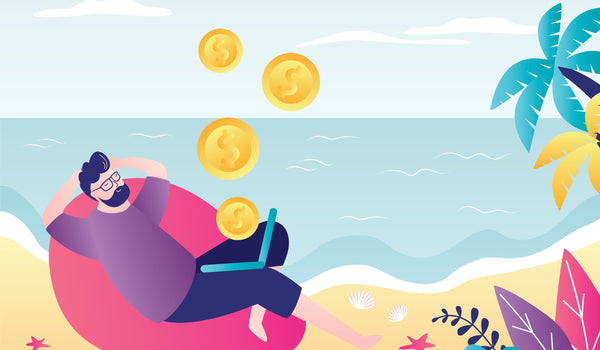 Make Money While Traveling: Different Ways
If you are tired of your daily monotonous jobs and want to go for an escape somewhere, there can be no better option than traveling. Make money while traveling? Yeah, you heard that right! There are several ways through which you can keep traveling to different locations while making money, too. You can make endless money while exploring different places and earning out of the same! 
Isn't it great to be paid to travel? Many people think that you will have to get your hands off all your savings if you want to have fun and witness different destinations across the globe. But that's not the case. Read on to know more about how you can do this wonder! 
Ways to make money while traveling
Start a travel vlog
This is the best way to keep traveling and make money by posting different informative videos on social media channels, particularly on YouTube. Many of us actually have a habit of shooting videos and capturing images when we go to new places. So why not maintain a vlog with all of that? It will give you a handsome amount of money. Also, you might be surprised to discover that many travel vloggers outside have quit their 9 to 5 jobs to start vlogging on YouTube. All you need is to have a good deal of patience, much more than what you do imagine! 
Also, you should ensure that you are putting up adequate and genuine information about your adventures. Something that your audiences can be benefited of! As your channel grows, you can start working with some of the top travel websites and create sponsor content. A lot of money, truly! 
Making money with Modephone
With the constant evolution in the digital world, you can even choose to make money while traveling. And here's a website for you, modephone.com. There are plenty of things through which you can make good money even while you are on the go, just by doing simple and small activities that would surely capture your interests! 
Join an NGO
If you are interested in several humanitarian activities and love to travel around the globe, choose to join an NGO. It would allow you to work for the betterment of the people in different parts of your city and the country while filling up your wallet simultaneously. Do good to others. Also, do your adventure all the same time! 
Be a travel buddy
No matter where you reside, you always have domestic and foreign travelers visiting your place, isn't it? If you think you have good people skills and are aware of the best destinations around the city or country, be a travel buddy. You will earn a handsome amount of money from the same! You travel and earn together, isn't that great? 
Start writing content about your travel experiences
Today, the internet is flooded with too many blogs and content. But there's still a huge crisis in gaining genuine information. That's where you need to fill the gap. If you have a good hand in writing, start showcasing your creativity through freelance writing. 
You can open up your website

share your experiences about the places you have been to

write articles for various travel sites

get a pay per word basis. 
Also, you will have a lot of pictures that you might have clicked while you were on the go. So you can post all of them while publishing the article and have a copyright of the same! Good idea, isn't it? 
Selling handicrafts
If you are good at handicrafts and other artworks, you can even choose to sell them while you are moving to different places. Today, many small scale industries have evolved just because of these machine-made products that are available in the market. 
Simply connect to all those middlemen who deal in craft works, paintings and such related stuff. Also, you can start earning out of them at the same time. Regional art and craft have a lot of value even today. Also, if you can market them well, there are many scopes you can discover! 
Photography
If you have a creative eye and good hands at photography, start capturing and selling those photos! Travel shots are highly in demand, and you can even publish them in different magazines or simply sell your collections. If you aren't that willing to sell out those photos you have shot, you may even open up a social media handle and start posting your pictures on that page or account that you own! You never know when you might start becoming a social media influencer with a huge fan base! 
Market research and surveys
Now when brands have become so conscious about the preferences of their customers and potential customers, market research and surveys have started becoming a major segment of our lives. You can earn money by completing various online surveys and testing new products on the go! Know that you should always register with the legit websites that pay you! You do not require pay anywhere! Some of them are Toluna, Swagbucks and more. This activity doesn't require much effort and can be carried out within a minimal time.